Build the Future of Customer Service for Banking in Africa at the Re:Code Nigeria Hackathon The financial services sector is in flux, more and more it feels like the users are the ones serving instead of being served. With so many disruptive technologies coming up, there is no better time to change the flow of service and create a balance between the traditional institutions and the emerging fintech institutions.
The Re:Code Nigeria Hackathon aims to bring together multiple teams of talented developers, designers, problem-solvers, out-of-the-box thinkers, dreamers, doers, makers, and code magicians to solve this problem. Let's come together and build brilliant solutions to the most vexing problems in financial services today.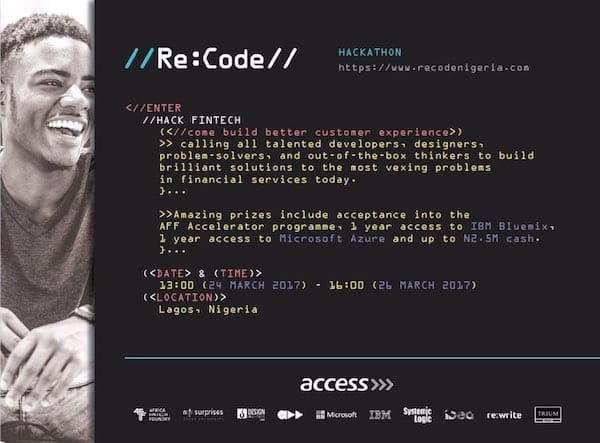 The mission of Re:Code Nigeria, is to transform the existing mode of engagement in the banking industry; the customer experience, and create value for customers beyond payments. Teams at the hackathon will be formed in groups of 5 with a maximum of 20 teams allowed. The winning team will be awarded the prize money of $2,500, first runner-up $1,500 and third runner-up $1,000.
The Re:Code Nigeria hackathon will hold from Friday the 24th of March at 1 PM until Sunday the 26th of March at 4 PM. Details of location will be forwarded to interested developers and closing times for each day will be announced afterwards.
Are you ready to change the face of customer service for Banking in Africa? Get more information on the mission of Re:Code, team formation, judging criteria and more here.