SystemSpecs, a leading financial technology company in Nigeria and owners of Remita, today announced the release of the beta version of their much anticipated Remita Mobile Application, to empower individuals to view multiple bank balances on one screen, make payments from and to various bank accounts including microfinance banks, settle various bills to Federal and State Government agencies as well as other billers, easily manage their expenses, and other key capabilities that allow users stay in firm control of their finance.
"Remita Mobile App will provide individuals with a much easier way to manage their finance," said John Obaro, SystemSpecs' Managing Director at a ceremony held recently in Lagos where a new Remita logo was also unveiled. "Now, with Remita App, customers of various banks will experience increased convenience, as they would be able to access their various accounts, seamlessly settle bills, and stay in firm control of their finance, anytime, from anywhere, on a single app."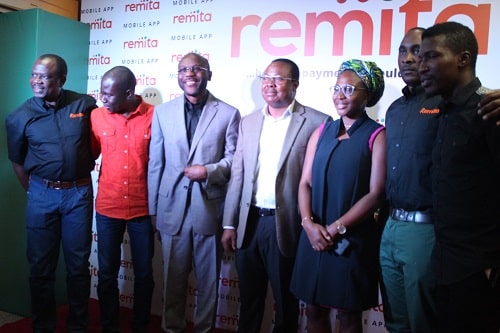 With this app, individuals will be able to send and receive money from the comfort of their phones, without needing any other mobile app or visiting any bank branch. Also with the app, payers can respond to payment requests from restaurants, shopping outlets, schools, family, friends or other billers by quickly snapping a QR code from their smartphone or tapping their device against the biller's to complete transactions.
"We are optimistic that this solution will contribute significantly to transforming the financial culture in Nigeria," said Adédèjì Olówè, Executive Director at SystemSpecs. "Not only will users be able to effortlessly settle utility bills using their mobile phones, Remita App's exciting expense management feature will enable them make more financially intelligent decisions as it provides easy-to-understand colourful charts which analyse and display expense patterns."
Also on the occasion, the winners of the Remita Seed Fund for startups received financial support to tune of one million naira each. They had emerged winners after successfully pitching at the fifth edition of StartUP Friday organised by the Office for ICT Innovation and Entrepreneurship (OIIE), a subsidiary of National Information Technology Development Agency (NITDA). The beneficiaries are Temie Giwa-Tubosun of LifeBank Technology and Logistics Limited, Damilare Ogunleye of Lasiko Ltd, and Taiwo Ayanleye of Stutern Limited.
Speaking on the gesture, John Obaro said: "We are always glad to support innovative tech-driven startups to grow and scale their businesses. Remita Seed Fund is one of our contributions to the advancement of Nigeria's technology ecosystem. It is our belief and desire that it will help these three tech startups to take their ideas to the next level."
Commenting on the rebranding of Remita, David Okeme, SystemSpecs' Chief Marketing Officer, said: "The new Remita logo signifies our entry into a new phase in the history of the brand and represents our strong desire to consistently remain top of our customers' mind."
Speaking further, Okeme added: "We expect that the new Remita identity will affectionately resonate with existing and potential users, especially at this time we are introducing another innovation to them with the release of Remita Mobile App."
With Remita Mobile App, payments can be requested in the most convenient manner. Whether from customers for services rendered, from family and friends for various purposes like weddings, birthdays, for 'aso-ebi' payment contributions, or any other need. Funds or payment request can also be made by generating QR codes and sharing with customers and friends via email or other social media channels.
Asides the standard industry security measures which have been built into the app, Remita has specific security layers that guarantee the integrity of all access and transactions, including Personal Security Number, fingerprint authentication, One-Time Password Verification, among others.
Olówè however added that, "Currently, six Nigerian banks—Zenith, UBA, Access, Wema, FCMB, and Providus—have been fully integrated on the mobile application, with more banks already lined up to be introduced in the coming days when we take the solution out of the Beta phase."
Not only individual bank accounts can be accessed on Remita Mobile App, as individuals who play various roles on their corporate bank accounts will be able to play such roles on the App in addition to being able to conveniently manage their various personal bank accounts.
The app is the mobile version of the multiple award-winning Remita payment solution, which has revolutionalised the payment processes of various individuals and organisations in Nigeria for more than a decade.
The beta version of Remita Mobile App is available for download on the Google Play Store