myStudyFocus is a mobile app developed for students in higher institutions to help manage their daily school activities.
It is intended that by leveraging the platform to manage uphill tasks such as Grade Point calculations, homework, lecture schedules, timetables, projects and so on, the performance and overall effectiveness of the average Nigerian student will be improved.
Launched in January, 2017 by Olaogun Toluwalase, myStudyFocus is closing up on 5000 downloads on Google Play store already.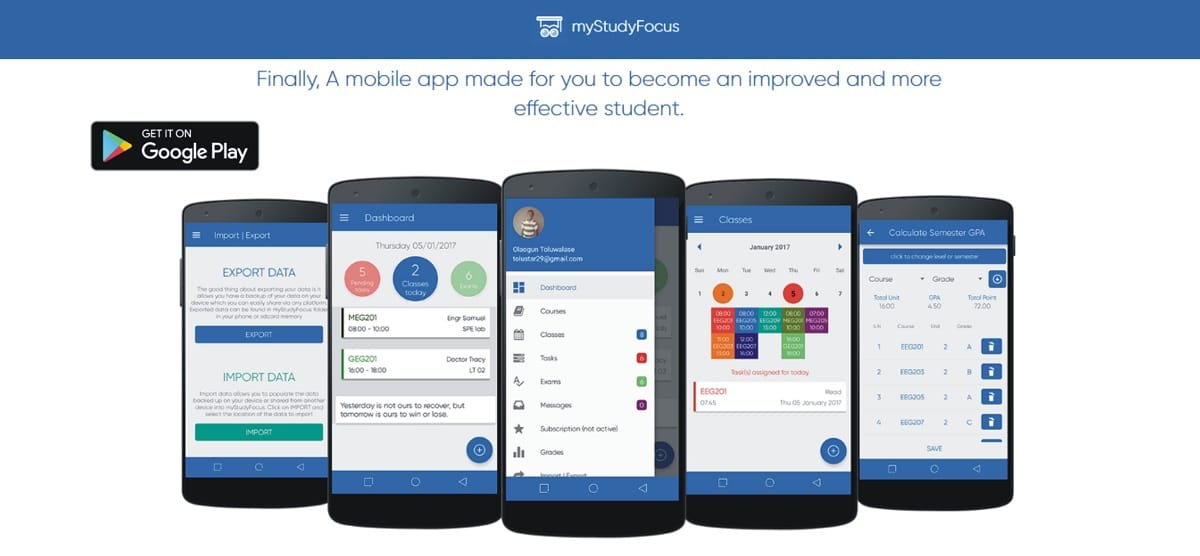 Features
Course outline and details for all courses to be taken from first to final year. Currently available to University of Lagos (Unilag) students only. More schools to be added on.
Timetables with 10-minute notification ahead of lecture
Task manager; keeps track of tasks such as studying and submission of assignments. Notifies when completed.
Grade Point calculator -- easily calculate and estimate grades for a particular semester or year
Thoughts
The typical Nigerian student can relate with how burdensome keeping up with campus activities could be. If myStudyFocus delivers on its promise, it could prove to be a relief, especially for Unilag students who currently have access to the full feature set.
However, considering that over 200 tertiary institutions exist in Nigeria, expanding to other institutions will be capital and labour intensive. It will be interesting to observe how it scales.
myStudyFocus is available for download on the Google Play store.
---
Discover new startups every weekday by 9am (WAT) | Pitch your startup here.