The written word is a form of expression that is becoming indispensable in today's world of business, art and education. As the internet continues to be riddled with a near-unlimited amount of information, the chances of sourcing quality content online remains a challenge. Access to literary content for educational, recreational and research purposes is limited, not just in Africa, but in several places across the world.
Evidently, in order to give quality written words a more visible presence online, there is a need for a robust platform that will allow creatives to showcase their thoughts and ideas, reach their targeted audiences, and get objective critiques of their work in their bid to gain recognition and acknowledgement.
This is why the Raadaa project is attempting to bridge this gap by providing a platform upon which research can be preserved, accessed and critiqued by anyone from anywhere. "We sought a solution to this disconnect and decided to leverage the internet and its wide/far-reaching availability", said Ezugwu Chigozie, the startup Founder and CEO.
Raadaa is built for researchers, academics, authors, organisations and readers who just need a source and a repository of quality literature and research materials. Individual writers can upload their work and grow their audience on the Raadaa platform. Publishing houses and organisations aren't left out. They can also upload any material they have copyright license for -- say, research papers and academic material -- on the Raadaa platform.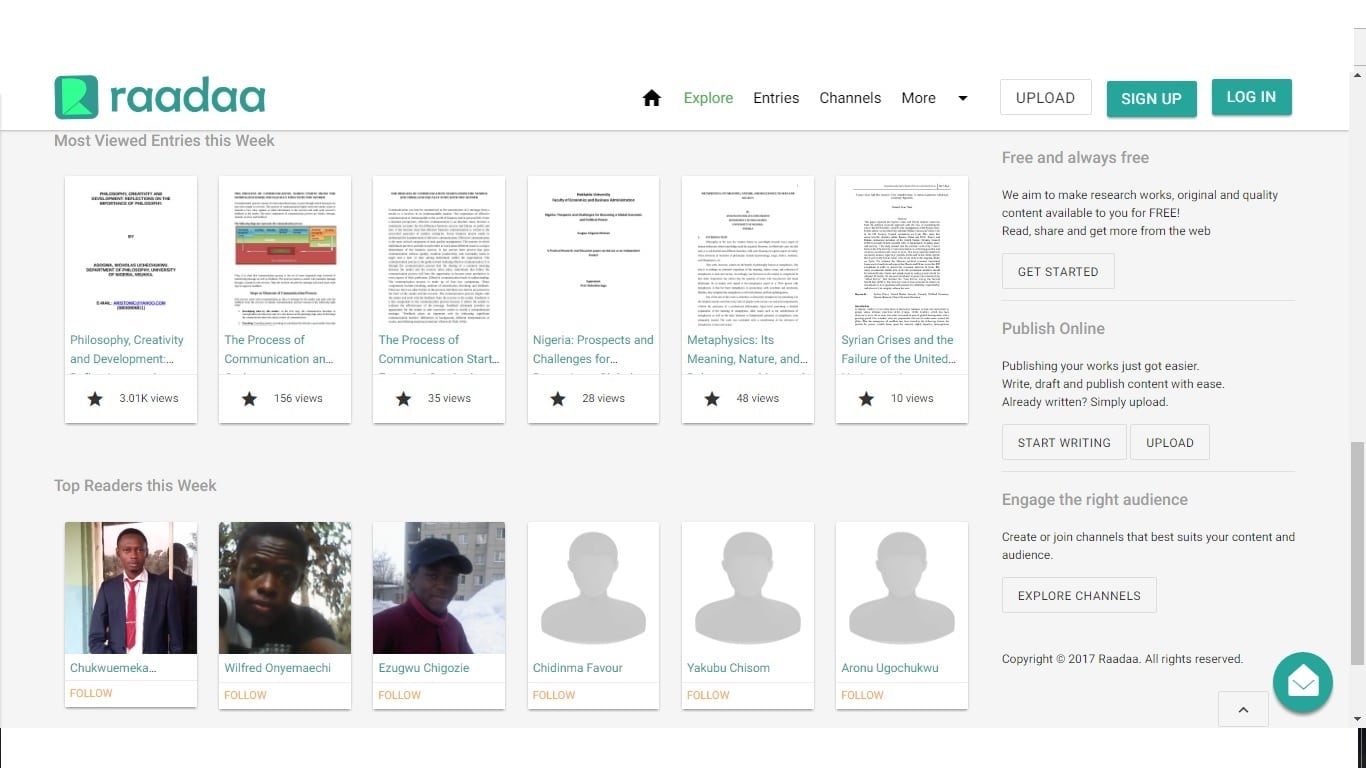 One of the greatest advantages of Raadaa.com is that it also making it easier for several educational institutions including professors and lecturers to have all the research works and papers of their staff or students on one channel for quick and easy reference. Researchers in universities, societies and organisations have uploaded their work on raadaa.com and are receiving quality reviews and critique from like minds. Some have been contacted by organisations and individuals to follow up on their work.
Why should you use Raadaa?
             It's a free platform - now and always.
            Upload and share all written content - from journals and papers to works of fiction - at no cost.
             Get reviews and critique for your work.
             Create channel and collate all your research and followers can   submit their own research.
             Earn money for views and reviews of your content.
             Measure the impact of your research work
             Connect and collaborate with researchers and writers all over the world.
             Organize all your research in one place.
             Read and download papers and journals for free.
If the possibility of your research or article contributing to a breakthrough for cancer or HIV is not enough motivation to put your work on raadaa.com, then the fact that the platform also pays for views and reviews on your papers and research (which is also a primary motivation and incentives for authors and researchers) is worth giving the platform a second consideration.
"Many academics already believe in the importance of this platform and in less than one month since the Raadaa project went online, more than 3000 professors, students and researchers have registered on the platform with thousands of research works already uploaded," Chigozie affirms.
Publishers, authors and users on the platform are also taking advantage of the Raadaa monetization policy and are earning money from views and reviews of all the content uploaded on their channels. Put your work on Raadaa.com and let the world benefit - it's the best reward you could get for it. No geographical barriers apply here. Sign up, read, upload, share and monetize.
To create a personal account or institutional channels and start uploading your books, articles, research and other written contents sign up on raadaa.com today.
"This is a platform to take advantage of and get your literary material the recognition it needs," the CEO concludes.