This week's tech events is a mix of work and play. We have curated tech events that seek to provide an avenue for industry professionals to converse and at the same time share knowledge.
Here is a list of tech events happening this week (Monday, 16th January – Monday, 23rd January, 2017).
Global Game Jam 2017
Global Game Jam 2017 is a 48-hour game development hackathon that takes place around the world. The focus is on game development. Game developers and animators come together, be creative, share experiences and express themselves in a multitude of ways using games.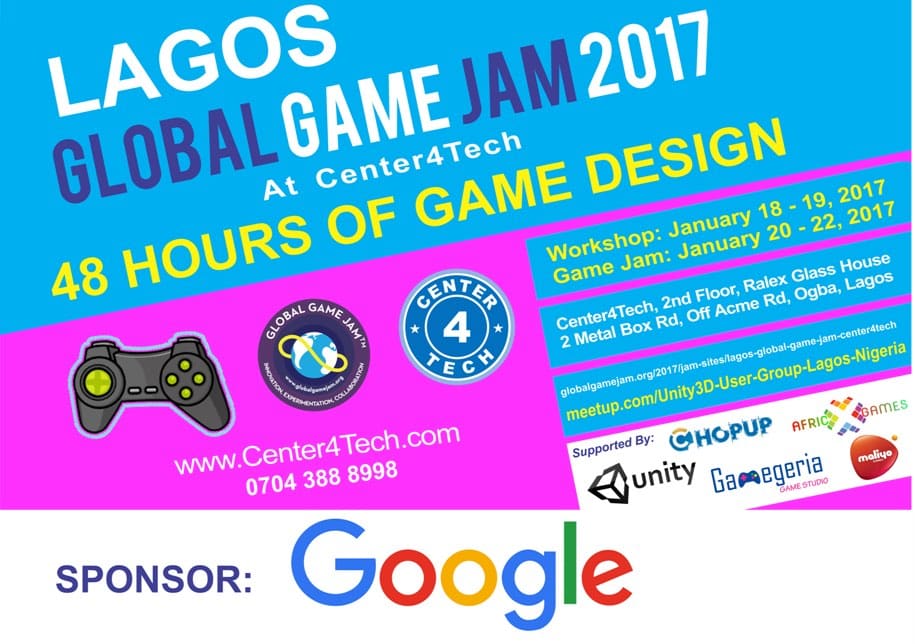 The event will feature:
Game development workshops and tech talk on game development.
Participants will form groups and develop real games based on a theme which will be announced globally. Finished games will be uploaded to Global Game Jam Sites at the end of the 48hrs.
To sign up for this event, click here.
Date: Friday, 20th January to Sunday 22nd, January, 2017.
Time: 2 - 6pm
Venue: Center4Tech Training Facility, 2nd Floor Ralex Glass House, 2 Metal Box Road, Off Acme Road, Ogba, Ikeja, Lagos, Nigeria.
forLoop Hangouts: Technology and the business of building multi-tenant (SaaS) systems
forLoop Hangout is an online round table that engages developers from different parts of the world to share knowledge. The next hangout will be streamed live this week. This time, discussion will be about business and the technology of building multi-tenant systems.
The hangout will feature Mayowa Okegbenle, the co-founder of Klein Devort, Segun Olaiya, a web developer and lover of algorithms, Sayo Oladeji and Kingsley Adio, the co-founders of Hextremelabs.
https://www.youtube.com/watch?v=mjcTA8R6Y-E
If you have any question or comment about the hangout, feel free to reach out to Yomi Osamiluyi on twitter.
Date: Saturday, 21st January, 2017.
Time: 11am.
Venue: Google Hangout
* * * *
Editor's note: Are you organising a tech event? Tell us about it by filling this form.