"Every company will eventually be in the data business" -- Thomas Davenport.
In an effort to make the transition a smooth sail for businesses, Imaginarium Creative is organising the Digitech Conference.
Digitech Conference is an annual conference, bringing together top minds in various information technology related industries to explore opportunities in current trends in data and analytics.
In its inaugural edition, Digitech Conference themed 'Towards A Data-Driven Economy" will bring to the forethought, leaders who are pioneers of the African digital revolution and explore major opportunities from industry experts, putting existing knowledge to work and forging lasting relationships within the African tech community.
The conference is tailored to address important pain points of organisations who seek to understand better, how data can provide a compelling backdrop to shape ecosystems, improve products, and deliver value.
Feature topic includes;
Data Profiling for policy formulation and social development: mitigating policies and developmental challenges using data and technology in an emerging world.
Mobile Service Innovation: Driving Financial Inclusion and unlocking Consumer Centred product within the mobile ecosystem by leveraging data intelligence.
Data-driven entertainment: Redefining content creation and distribution; a data-driven approach.
The Startup Ecosystem and Big Data.
Social Data Intelligence through Mining Social Data.
Designing with Data: Creative Technology for Brand Expression.
The list of speakers consists of leading data analyst as well as policy makers who are at the centre of creating the enabling environment for businesses to access data and thrive.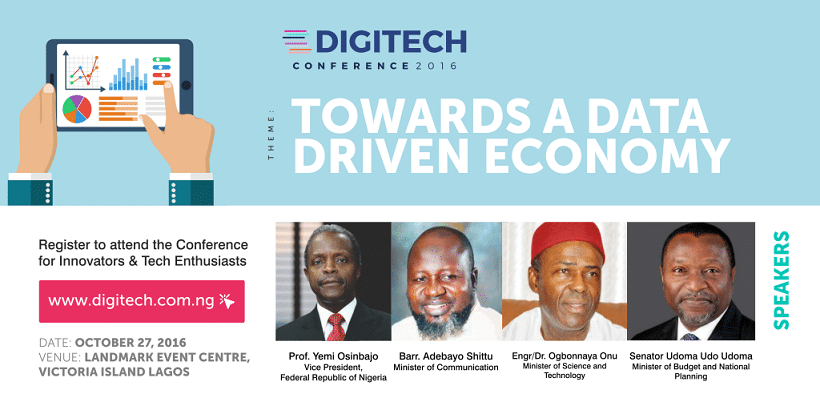 Distinguish speakers at the conference will include; The Vice President of Nigeria, Mr. Yemi Osinbajo, Minister of Science and Technology, Dr. Ogbonnaya Onu, Minister for National Planning, Senator Udoma Udo Udoma, CEO of Diamond Bank, Udoma Dozie, Chairman, Openmedia and former Director General of the Nigerian Communications Commission, Mr. Ernest Ndukwe, Google Country Director, Juliet Ehimuan, CEO Techpoint.ng, Adewale Yusuf.
Venue: Landmark Event Center, Victoria Island, Lagos.
Time: 9am - 5pm
Date: 27th October, 2016
You can register to attend here