The growth of mobile broadband subscribers in Africa largely reflects the rising smartphone adoption rate. This growth has been driven by strong uptake in the more technologically advanced mobile markets, such as Egypt, Kenya, Nigeria, and South Africa, as well as some relatively new 3G markets, notably Algeria, Cameroon and the Democratic Republic of Congo.
Following GSMA's Mobile Economy Africa report 2016, it is clear that mobile subscribers in Africa are increasingly migrating to mobile broadband services. This is driven by network roll-outs and data strategies. Mobile has emerged as the platform of choice for creating, distributing and consuming innovative digital solutions and services in Africa.
Though global content providers such as Facebook and Google have launched localised services to tap into the increasingly tech-savvy consumer base, there is growing interest from consumers in home-grown solutions that directly appeal to local interests and cultures, and that address unique social and economic challenges faced by consumers in Nigeria.
IP messaging platforms are gradually gaining African users
Due to the adoption of mobile broadband and growing smartphone adoption, the use of data services is on the increase. Although still not widespread in all African countries, more and more people (especially Morocco, Sierra Leone, South Africa, Egypt, Algeria and Nigeria) across Africa are using IP messaging apps such as WhatsApp as an alternative to SMS services.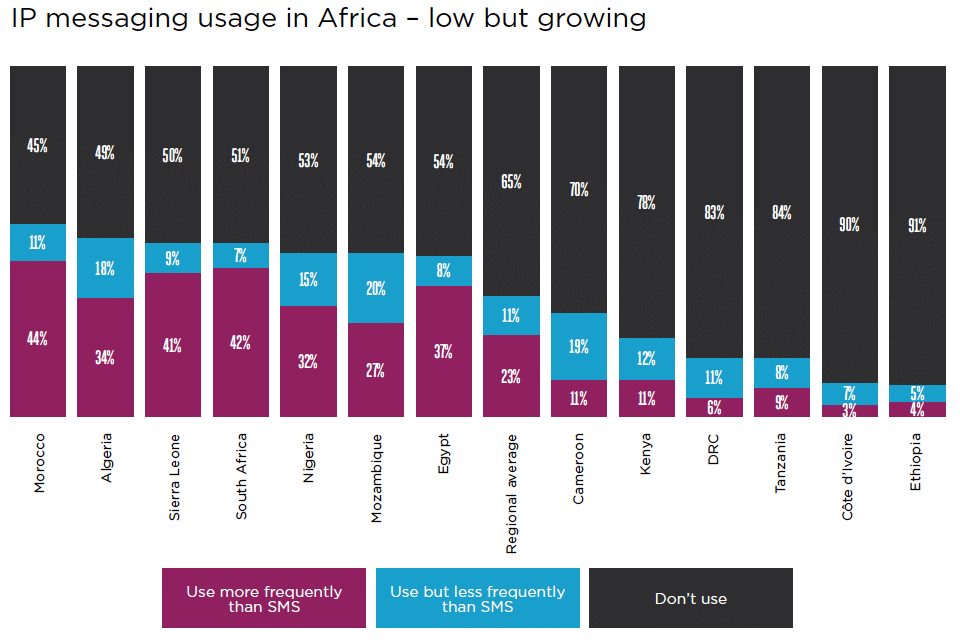 From the consumer report, 32% of Nigerians agree to frequently using IP messaging platforms more than they use SMS. With drop in prices of data services, it is expected that more Nigerians will be able to afford using IP messaging platforms.
---
Suggested Read: The fall of data prices in Nigeria and what it means for us.
---
In early 2016, WhatsApp announced it would stop supporting Blackberry and Nokia devices by the end of the year. This move could significantly affect a large proportion of the 750 million feature phones still in use across Africa.
2G network still dominating Africa
As of June 2016, there were 74 live LTE networks in 32 countries across Africa. ntel Nigeria's launch in April and the announced plans by MTN Nigeria to launch its 4G LTE network in selected cities in 2016, following the acquisition of Visafone's 800 MHz spectrum are key indicators of the possibility of Nigerians having access to 4G LTE network later this year.
Though 2G technology accounts for the vast majority of mobile broadband connections and 3G technology's growth is on the rise, the question really is about when 3G technology adoption will out perform 2G technology.
Locally relevant content can help increase internet adoption in Africa
Overcoming cost, coverage and technical literacy barriers particularly for the majority of the population who live in rural areas and connecting the unconnected could lead to significant growth of mobile broadband in Africa.
The consumer report highlights lack of awareness and locally relevant content, lack of digital skills and literacy, high cost of devices and service (affordability) as top barriers to internet adoption.
In each African country that the GSMA Intelligence Consumer Survey was carried out approximately 1,000 people were interviewed face-to-face, and were selected so that they were representative of the urban/rural and gender splits of the population.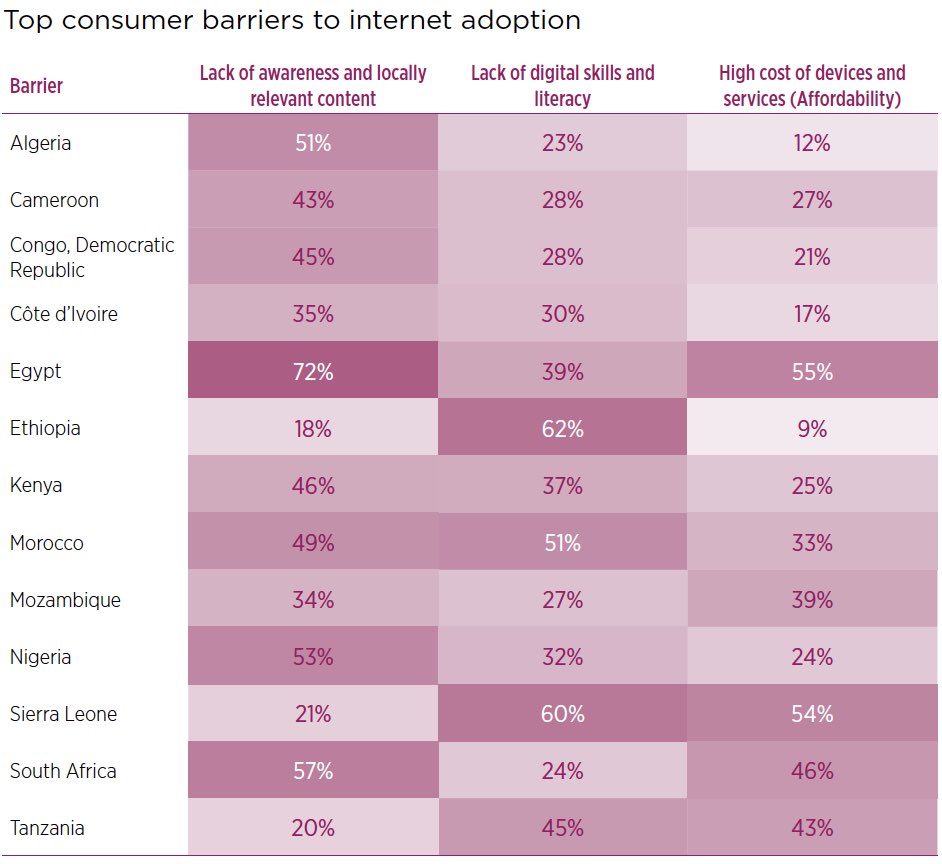 Lack of awareness and locally relevant content was identified as the biggest barrier, while affordability recorded the widest spread among respondents.
Takeways
Someone recently asked me about internet businesses in Nigeria with heavy user traffic, I recalled using Nairaland as a case study to outline the forum's excellent performance with 2G network. Having your online platform run smoothly on a 2G network is a compulsory exercise if you are not selling to Africa's rich alone.
With proper development of local content that are made available to Africans through smartphones with access to the internet, mobile broadband penetration is sure to rise but we shouldn't expect a significant rise before year 2020 as earlier projections revealed.