A packed CV definitely looks good, impressing a board with stellar achievements is another pass on your personality but it's important to know that forward thinking businesses are always on the hunt for individuals that can communicate and deliver strong business values. So, it's not out of place to advise that you equip yourself for the jobs of the future while benchmarking success against the real things that matter.
And the questions never stop hitting us hard; How do I get better at what I do? How do I remain valuable to my firm? How do I stay relevant in my career and industry despite the ever changing employment climate?
As a major driver for digital payments, technology, and a pioneer catalyst for growth on the continent, Interswitch realizes that these questions won't answer themselves without relevant action; hence the bold step to design a Payment Certification Program accessible online.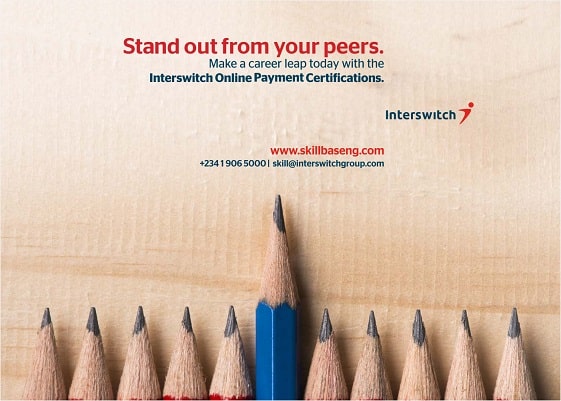 The new Payment Certification program by Interswitch is a flexible world-class e-learning certification program packed with a huge body of knowledge across the payments industry suited to build the next generation of e-payment professionals.
So, are you a young professional, getting in the grind with your NYSC, new employees or seeking to expand your career horizon? Build relevant skills and increase your knowledge base, explore more ways to create opportunities in your career while gaining recognition for a chance to connect with like-minded professionals in the areas of e-payment and e-banking with the new Interswitch's Payment Certification Programs.
Get out there while preparing yourself for the jobs of the future.
Visit dig.ng/skillbaseng or call +234 1 628 3888 to register and become part of a major revolution to empower smart individuals.