After the unboxing of the Tecno Camon C9, I was fussing over its 13MP back and front cameras and discovered it had other cool features.
Upon a cursory glance and during the unboxing, I was beginning to make presumptive comparisons with the Camon C8, but the Tecno Camon C9 turned out to be way better. Before you go get yourself one, let me help you make an informed decision.
---
Suggested Read: This is the Tecno Camon C9
---
Design
The Tecno Camon C9 is encased in a smooth plastic casing. The body has a somewhat rounded smooth feel to it that makes for a sturdy but lightweight grip; reminded me of the ASUS Zenfone Selfie without the crystal in the back.
Advertisement
And the sleekness is further complimented by a pencil thin figure that will make any figure skater jealous. When slid into the pocket, it disappears completely without making the characteristic bulge of a 5'5 inch device.
Overall, the design is a fine blend of functionality with the regular buttons and beauty with its sleekness.
Display
Is this the best display on a Tecno smartphone? I do not think so. But it totally works for me. The high definition in-plane switching screen is fluid. The interface shows colours in real time without the ocassional blur that is.
Icons on the main screen are also well placed as the User Interface of the Tecno Camon C9 is the new Tecno HiOS that is built on android Marshmallow. HiOS has themes and colourful wallpapers aplenty, but I am not very much into using a device's custom wallpapers or even themes.
Slightly depressing the power button brings quick options that lets you restart, shutdown, enter airplane mode, switch SIM cards or change sound profiles.
Camera
Finally, we are at the point where we are supposed to be. With 13MP shooters on both front and back cameras, expectations are high and the Tecno Camon C9 did not disappoint.
---
Suggested Read: The Tecno Camon C9 is Picture Perfect.
---
The camera spotted different options; guidelines to show newbies how to use the camera, option to turn shutter sound on and off, holding off capture, adjust picture size, add location to your pictures, take shots by giving the two finger gesture(it didn't work for me) and an options that turns the selfie side of your device into an actual mirror.
On to the snapping proper, the selfie camera performed reasonably well under low light. I did not expect to be disappointed, and I was not.
As expected, bright lights made better and less grittier selfies.
Since I shot all the selfies under artificial lights, I decided to test the back cameras in a naturally lighted setting and they held their own quite well.
Battery
The Tecno Camon C9 is powered by a 3,000 mAh battery. I have learnt not to trust the declaration of battery sizes by phone manufacturers as sometimes they fall short of the expected measure. But the battery in this smartphone lived up to expectation and beyond.
The battery went from flat to a 100% full charge in 2 hours 25 minutes. And under intense pressure with display brightness set to the highest and sleep mode off, I listened to music via a bluetooth speaker while browsing and gaming simultaneously. The battery lasted a whopping 6 hours and 10 minutes before eventually going flat.
On moderate use — occasional calls, games, music — without an intent to kill it, the battery of the Tecno Camon C9 lasted me from morning till the next morning and required charging around mid-afternoon of the next day, impressive.
In-built feature like the Ultra Power Mode, Battery Saver and Heartbeat Sync also contribute in further lessening unwanted consumption of juice.
When left idle for more than 1 minute, the camera automatically puts itself to sleep to save power as shown below until you double tap the screen to wake.
Iris Scanner
During the unboxing, do you remember that I mentioned hearing a bird whisper that the Tecno Camon C9 may come enabled with an Iris Scanner to unlock it? Well, it turns out that it is true, only that Tecno christened this one thee Eyeprint Scanner.
Like fingerprint, the systerm requires you to register your eyeprint in a series of attempts for the sake of security authentication.
The eyeprint gives you the option of choosing the particular apps to lock, or you can just leave everything and lock it up.
There is also a password option; you know,  in case you forget your eyes somewhere.
I needed the password more often, not because I forgot my eyes, but the Eyeprint scanner was unstable. Sometimes, it just did not recognize my eyes, other times it told me to move closer to the camera and left me hanging there.
I guess it takes quite some time to get accustomed to your iris, I hope so because for a new design, it is expected to work smoothly.
Smart Cover
Did you notice the pouch in the box during the unboxing of the Tecno Camon C9? I knew it indicated a smart cover, I needed to make sure.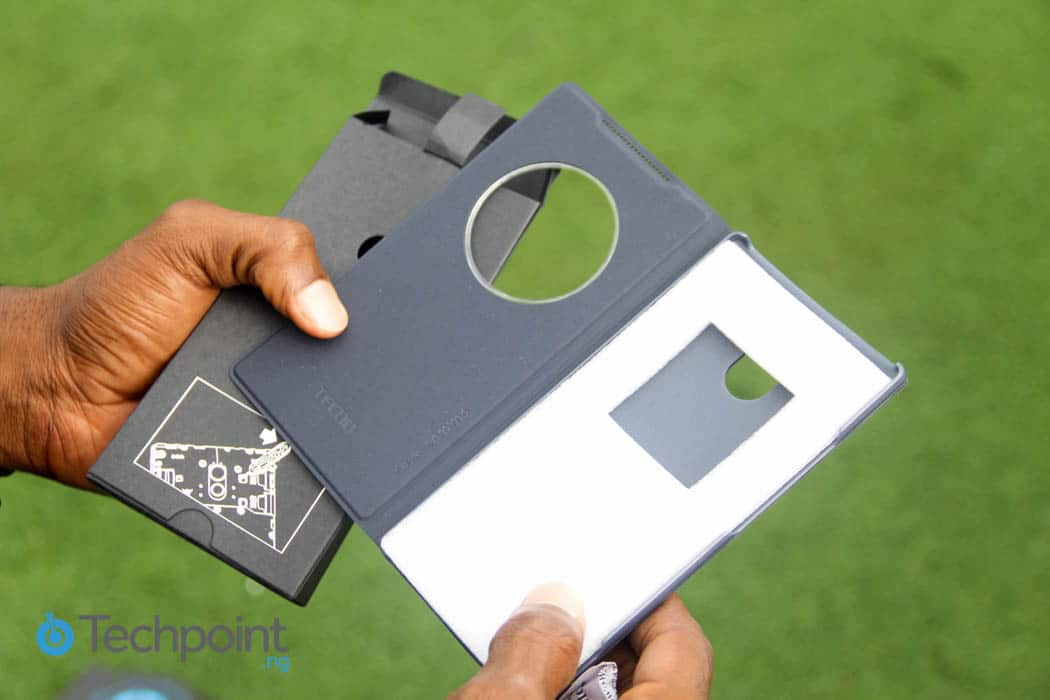 Some "smart covers" can be quite dumb with a digital clock staring you in the face, but his one was quite functional.
Upon tapping, the screen portion on the smart cover awakens and it has three slides; clock, torch and music player, without opening the phone and exposing the full screen, I could access these three features. And text messages are also displayed on it, you can only read from there, would have to flip the cover open to reply.
Price
Sources close to the grapevine pegged the price of the Tecno Camon C9 at ₦49,999, that is ₦50,000.
Verdict
I am still exploring the Tecno Camon C9 and totally discovering its depths might take longer, maybe until you probably get yours. But I like so many things about the phone. Some of the important things — like camera and battery — stand out, so there is really not much to complain about.
Apart from the instability of the Eyeprint Scanner, I have not found any other flaws in the Tecno Camon C9, at ₦50,000 it is worth every kobo.
---
On January 27, 2021, Techpoint Africa will be hosting the brightest minds in decentralised finance/crypto at the Digital Currency Summit tagged "Building the money of the future" Click here for more details, registration and sponsorship.
---
Report: Millionaire West African startups" raised over $1.806 billion between 2010 and 2019, 97.9% of which went to Nigerian startups. Get a free overview and 50% purchase discount here.
---
Listen to Built in Africa, a podcast by Techpoint Africa
---
Comments