With credit rates at over 65% and inflation at its double figures, income doesn't complement standard of living and loans have become a nightmare for entrepreneurs. So, the questions we keep piling; what investments yield higher returns? What am I not doing right? Should I change Jobs? How do I make extra income and diversify?
To have your questions answered and more, mark your calendars as busy on the 30th of June, 2016 | 3pm as we specially invite you for our exclusive WEBINAR delivered by reputable financial forces.
Get insider tips and tricks. Join Finance experts; Dimeji Sonowo (Executive Director, SFS Capital Nigeria Limited) and Ononuju Irukwu (Managing Director, Chapel Hill Denham Management Ltd) as they unravel industry secrets on 'Tips to survive a challenging economy.'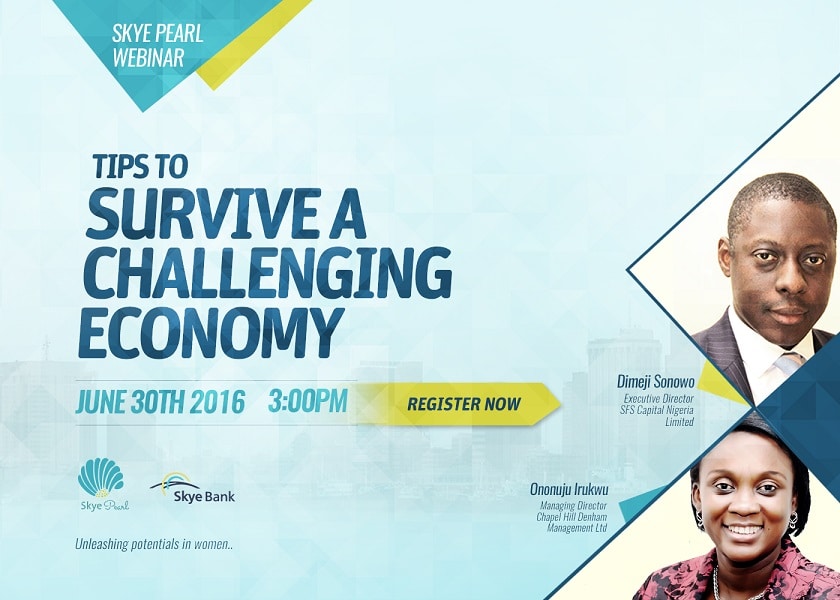 So, are you looking to get fresh investment ideas, increase your revenue streams, plug leaks, unlock hidden wealth potential or simply get some sanity in your finances? The Skye Pearl Webinar has got the best thing for you.
REGISTER NOW at http://dig.ng/skyewebinar . We would hate for you to miss this opportunity to take control of your finances.
Photo Credit: zouzouwizman via Compfight cc