Apart from a weakening currency, one of the major challenges in Nigeria is the rising price of Tomatoes. The tomato drought is so real that people are learning to prepare "tomato-less" stew. While Nigeria had this gory situation to deal with due to a blight attack on the crop which has forced one of the states to declare a state of emergency, Spain has so much to "waste" for their annual Tomato festival.
And while we are desperately looking for tomatoes in Nigeria, in Spain they have so much that they play with it! pic.twitter.com/v2KDpTR784

— Reno Omokri (@renoomokri) May 24, 2016
The same analogy is true in business; while some businesses are struggling to keep alive, smart entrepreneurs are raking in massive ROI, even in this economy. So, if you are concerned about having less sales than before, here are 9 strategies you can use to bump up your revenues.
Invest in strategic content creation that leads to sales
To get people to buy, you need to develop a content strategy that offers immense value before you ask for a sale. When your content offers immense value, your prospects obey the law of social reciprocity and feel compelled to buy from you. That sense of "owing you" is what they need to justify their purchasing decision.
To apply this principle to your business, you can start by posting helpful tips that your target customers find useful as your updates on social media. Experts recommended that the best social media update strategy is to post 1 "buy now" message after at least 4 helpful tips.
Outside social media, you can invest into strategic content development. For example, for businesses in the classified ad space in Nigeria (like OLX, Efritin, JiJi, MoboFree) can encourage their users to post more items on their platform by strategically creating blog posts that encourage this action; this could be on minimal living or any topic in order to encourage them to list their unused items on their site (Take a look at this post  for inspiration)

You can also use content strategy for customer retention to reinforce why your service is worth keeping by providing use cases, testimonials, white papers and industry insights in addition to the core service that you offer.
Apart from text format, there are other forms of content like video, private virtual workshops, and live events that you can invest in. Two of my favourite SaaS platforms offer exclusive customer-only webinars (online workshops/seminars) to incentivize upgrading your membership or keeping your subscription active.  Initiatives like these will move your product away from being a commodity to utility product that people will be willing to invest more to get and keep.
Use sales or deals to increase sales volume
People always love sales and discount. It gives the perception that they are getting more for less; and that is what they want, especially now.
You can use third party sites like DealDey to promote deals. This might not be as effective to drive profit, but it can give you some quick sales. Moreover, if you know how to build upsells sales funnels or you can turn deals seeker to repeat buyers, then the better for your revenue.
In addition to using third-party sites, you can also set this up yourself, for example, I often recieve special 1-day deals and freebies from a Nigerian SMS retailer who do not limit their giveways to seasonal discounts; they simply find the "dumbest" reasons to give bonuses which are limited time offers just like the recently concluded Jumia's Mobile Week which lasted for a week.
While not advisable, some businesses buy email database to send their offers (like this recent email I got)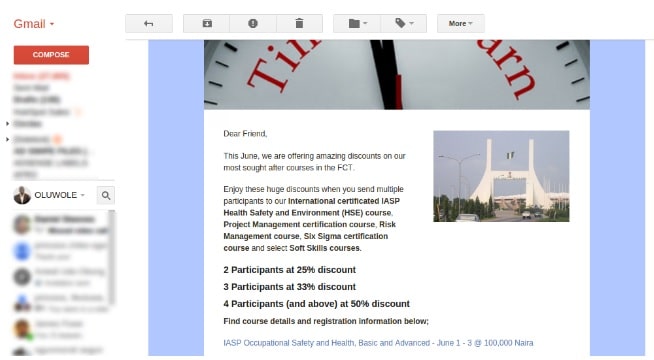 Position your product to answer customers' biggest desires
Many business have a poor statement of value (SOV). Your SOV answers the questions, "what is in it for me?" that the customer might be asking. In simple terms, it means that instead of talking about the features, show the benefits of your products to the user.
To achieve good result with this strategy, you need to redesign your website with a focus on your customer pain points. Don't state the features of your product, instead turn the features to benefits that address the pain point of your customer. The table below shows ideas of how you can turn your product features into benefit statements.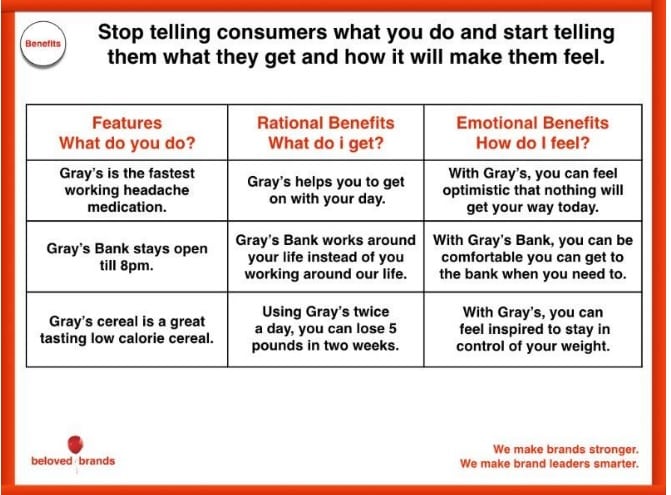 Another positioning strategy is to narrow down your audience as advised by Conversion Scientist. This appears counterintuitive, but even iROKOtv had to do it in the wake of competition from NetFlix
Targeted Online Advertising: PPC and retargeting ads
While you might need to scale down on spending on adverts, you should never stop completely. Rather, ensure you have a better messaging with a strong call to action. You can consider using this Facebook Ad guide to get cheap Facebook targeting. Most likely, your competition have stopped advertising and your ads will be the only ones your potential customers will see.
An important strategy with advertising is retargeting. This works well with Facebook and Google Adwords. For example, you can try this experiment:
Visit Konga or Jumia to check  out some items, but do not buy yet. Then visit Facebook or any other site; you will notice that the adverts of the product your just checked will be following your around the web.
That is what is called retargeting and it can increase your revenue between 300% to 700%. You can see  some other case studies here.
Discount Loyalty and Subscription Models
With discount loyalty model, You can get people to pay in advance for services they are yet to use. One of Nigeria's Airlines: Aero Contractors, used to discount future travels (with conditions attached), this gave them a pool of fund from the post dated services they are yet to offer. Another example is Amazon; Amazon locks in customers with the Amazon Prime programme and acccording to Times, this  essentially welcomes online shoppers into the Amazon "consumer sphere" and results in sharply increased spending at the site. Because, in a bid to maximise their $99 subscription, Amazon Prime subscribers end up buying more to justify their subscription. To get started, you can use Loystar an app that helps brands & businesses easily create loyalty programs.
A subscription model turns your one-time customers to recurring clients; this guarantees you future sales. For example, Harrys delivers shaving sticks to subscribers every month (see 15 other product examples ) while WPCurve charges monthly fees to manage customers (see other examples of productized services in this post and 3 more case studies) If you are not sold on the idea yet, Segun Adeyemi , CEO of Amplify wrote an interesting piece  on how you can restructure  your current business for the subscription model.
Non-traditional PR strategy
Newspapers, TV and blogs all want to get a piece of the latest story. You can take advantage of that to get your business in the press by sharing how your product or services is a solution to the economic challenges or how your customers are using your products to save money etc. I shared the strategies I use and wrote a followup post here. Note that whatever claims you make, ensure that it can be verified and not misleading. Based on track records, using this strategy is more effective than paying for traditional newspaper, radio or TV ads.
 Turn buyers to become repeat customers
Repeat sales can be the difference between a thriving business and a failing one. This is because repeat customers are profitable. There are several stats to prove this, here is one of them:
You can increase repeat visit by improving your post-sale customer experience . Amazon, the world's biggest retailer, is effective in improving repeat visit to their website. to do this, they have an email strategy and other strategies you can take some tips from.
Create Multiple landing pages
More landing pages means more conversion opportunities. Statistics from Hubspot have proven that the more landing pages you have on your website, the more opportunities you have to convert site visitors into leads. You should design each landing page to address specific customer segments.
Trend on Twitter using Mercenaries
The Pepsi brand launched the #longthroat global campaign on twitter which I learnt cost an arm and a leg. For savvy small businesses there is a way around it to get your message out with measurable ROI within budget and this tactic can be applied on any social network. You can also leverage celebrity endorsement for your product to "gain access" to the influencer's audience like Afrocab tried to do with Sheyi Shay's ride giveaway
https://twitter.com/iam_EGabriels/status/700758287407513605
Conclusion
Driving your business to profitable growth is difficult when the economy is down, but always remember that when resources (tomatoes) are scarce, it does not mean that people don't spend, they simply change how they allocate their resources. Your goal is to appeal to their emotional triggers.
P.S: You can still sign up for the FREE email course: How To Launch A Startup In 1 Month (registration extended to July 3rd , 2016). This email course is a FREE online program taught by already successful experts and you will be joined by hundreds of entrepreneurs like you on a mission to launch successful startups and online businesses. It is sponsored by TechPoint and Spokentwice (more details here)