To meet the daily demand of busy individuals and homemakers in Lagos, Value4naira gives free delivery services to customers in Lagos from 25th of May –June 15 2016.
Value4naira.com is a leading online supermarket in Nigeria which aims to give its customers 100% satisfaction in service delivery on a daily basis, assuring value for every item purchased on the Value4naira.com platform.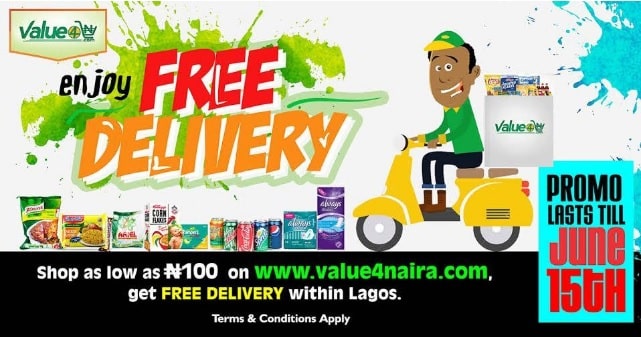 Speaking on the free delivery service, Chief Operating Officer of Value4naira.com, Ernest Umeike, said, "As part of our desire to constantly engage our customers, Value4Naria.com is offering free delivery within Lagos to all our customers from the 25th of May till the 15th of June. This offer, we hope, will be a further incentive to our customers to shop on Value4naira.com".
He also explained further, "The free delivery has no conditions attached to it. Thus, irrespective of what you buy or how much you spend, the goods will be delivered free of charge to all who buy on Value4naira.com between 25th May and 15th June.  This way the customer can relieve themselves of the additional cost and have their shopping done conveniently."
"We understand the pressures of the prevailing economic climate. We empathise with our customers and want to lighten the load a bit. This, we hope, will help in making their shopping experience on Value4naira.com even better".