The Retail Leaders Conference (TRLC) brings together the very best of local and international retail thought and practice leaders to speak, hear, brainstorm, discuss and align on the key issues, challenges and opportunities of the Nigerian Retail Industry and importantly how to drive sustainable growth for the Industry.
The Retail Leader Conference was first convoked in 2014 and set forth as an annual congregation of Retail Thought and Practice leaders to discuss germane issues affecting retail and chart the right response to the challenges and opportunities of the transforming Nigeria Retail Landscape.
The 2015 edition held at the Eko Hotel and Suites, Victoria Island with the theme The Future of Retail in Nigeria: The Seven Horsemen (7 Key Factors that will shape the Future of Retail in Nigeria). We had in attendance more than 200 business owners, Managing Directors, CEOs and other Senior Executives drawn from Retail, Manufacturing, Banking & Other, Financial Services, Telecommunication, and other Service providers to Retail such as Security, Branding, Design & Architecture, Payment Systems, Real Estate, Mall Developers/Operators, Marketing & Advertising, Schools, NGO etc.
The TRLC 2016 will build on these successes and equip participants with unique insights to better navigate the challenges of Survival, Sustainability and Growth in the challenging evolving Nigeria Economy. This year's theme "Unlocking Retail Potentials for Survival, Growth & Sustainability" was picked because of the dual challenge of survival and growth that is probably what is keeping most retailers awake at night.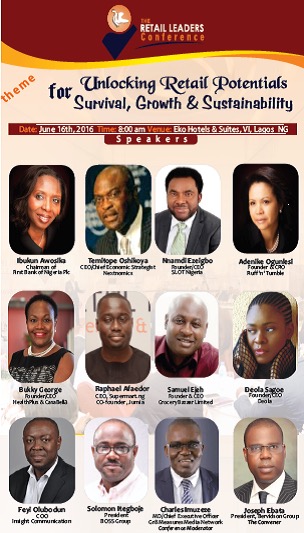 Nigeria is experiencing major economic challenges - from infrastructural to bureaucratic challenges and lately the challenges of foreign exchange and liquidity in the system and more. Faced with the current realities, a lot of retail organizations are needing to take drastic measures to fight for their sustainable survival. Some retailers are cutting costs fast, by shrinking store footprints, limiting SKUs, tightening up supply chains, or cutting store labour etc.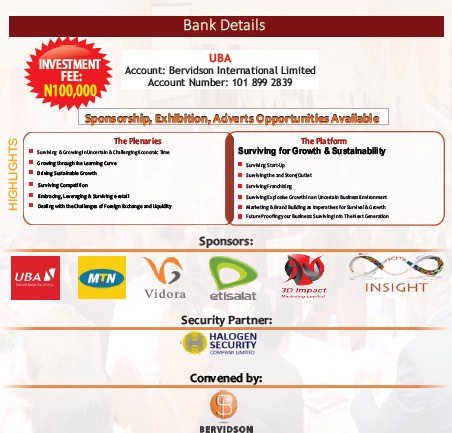 Beyond this, there is the chance of 'death' and opportunities for 'growth' in every strategic option that retailers are presented with:
"I need to have the 2nd store for growth; Mishandling the 2nd store can wipe out the business".
"We need to accelerate our growth; Growing too fast without the right capabilities will come back and haunt the business".
What options do retailers have and what strategies can they adopt to guarantee their survival not only during this uncertain and challenging economic times, but grow their business in a way that is sustainable both now and in the future?
These are the kind of questions/issues that this year's conference will provide answers and road maps to. This year's edition of The Retail Leaders Conference (TRLC), Nigeria 2016 which will hold on Thursday, June 16, 2016 @ Eko Hotel & Suites, Victoria Island Lagos, Nigeria.
Click here for Registration.
Click here for Exhibition and Advert Opportunity.
Click here for Partnership/Sponsorship Opportunities.