Last week, Hilltop Technologies released Talking Bookz as "the first audiobooks publisher and retailer of downloadable audiobooks in Nigeria and Africa."
Talking Bookz was one of the participants at the Challenge Cup Lagos early this year. So I checked out the app to see what it's all about. Here are my thoughts.
First impression: Talking Bookz user interface (UI)
The user interface of the app is simple, clean and easy to navigate. It has a hamburger menu by the top left. Click on that and you will see options for 'My books', 'Categories', ' My cart', etc., slide in from the left.
There are three option on the homepage for the latest, popular and bestselling books. The app didn't hang or slow down when I tried to move between each of those options.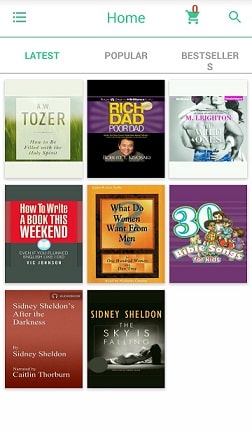 User experience
Like I said, the app responded quickly to touch. I didn't have the money to purchase one of the books, which, by the way, can be quite expensive. Good to Great by Jim Collins goes for ₦5,998. Although I saw many books that fell below ₦2,000.
I went on the hunt for free audio books and I got 'Around the World in 80 Days'. That one is 174.26 MB. You can either download it or stream it - I chose the latter. The narration was crisp and clean. I don't know if it's the same for all the books, but I suppose it is.
The library
This is the selling point (I think) of the app. According to the developers, there are over 50,000 audio books available on Talking Bookz. I commend the variety of categories. You can find self help books, romance books, eroticas, biographies, books on science and technology, humour, etc. And each category is well-stocked.
Final thoughts
If you love reading, or you value reading, and you find that you have little to no time to do so, you should definitely get this app. Instead of loading up your phone's memory or buying audio CDs (who still does that?), it'll be nice for you to download Talking Bookz (I'm not a fan of the 'z').
I think it's a nice app to have on your phone if audiobooks are your thing. It's available for download on Google Play and the App Store, and it's free.