The thoughts of ordering goods online and getting it delivered to your door step same day have and will always remain an attractive prospect to online shopping in Nigeria. There's a perceived notion that if many e-commerce platforms are to gain a lot of traction among Nigerians who are yet to be fully involved in online shopping, prompt delivery amongst others would just be the way to their heart.
Konga as we'd have it gave this service – same day delivery -- a shot when it launched back in 2012, but couldn't keep up with the trend as their daily operations began to increase.
The giant e-commerce platform has however not thrown in the towel on its ambition to see the service up and running with its latest announcement during a press briefing to re-introduce same day delivery. Only it is adopting a more conscious effort to get it right this time around.
As a customer centric company, we plan to expand this Same Day Delivery to other locations within the coming months. - Shola Adekoya

— Konga Nigeria (@ShopKonga) March 22, 2016
Rather than having a wild goose chase – like they did with the launch of the service in 2012 – it has however chosen to start in a small capacity that is more result-oriented. The service for the time being is only available in certain areas in Lagos: Agege, Eti-Osa, Ifako-Ijaiye, Ikeja, Kosofe, Lagos-Island, Mushin, Oshodi-Isolo, Somolu, Surulere, and Lagos Mainland, while hoping to expand organically to other locations.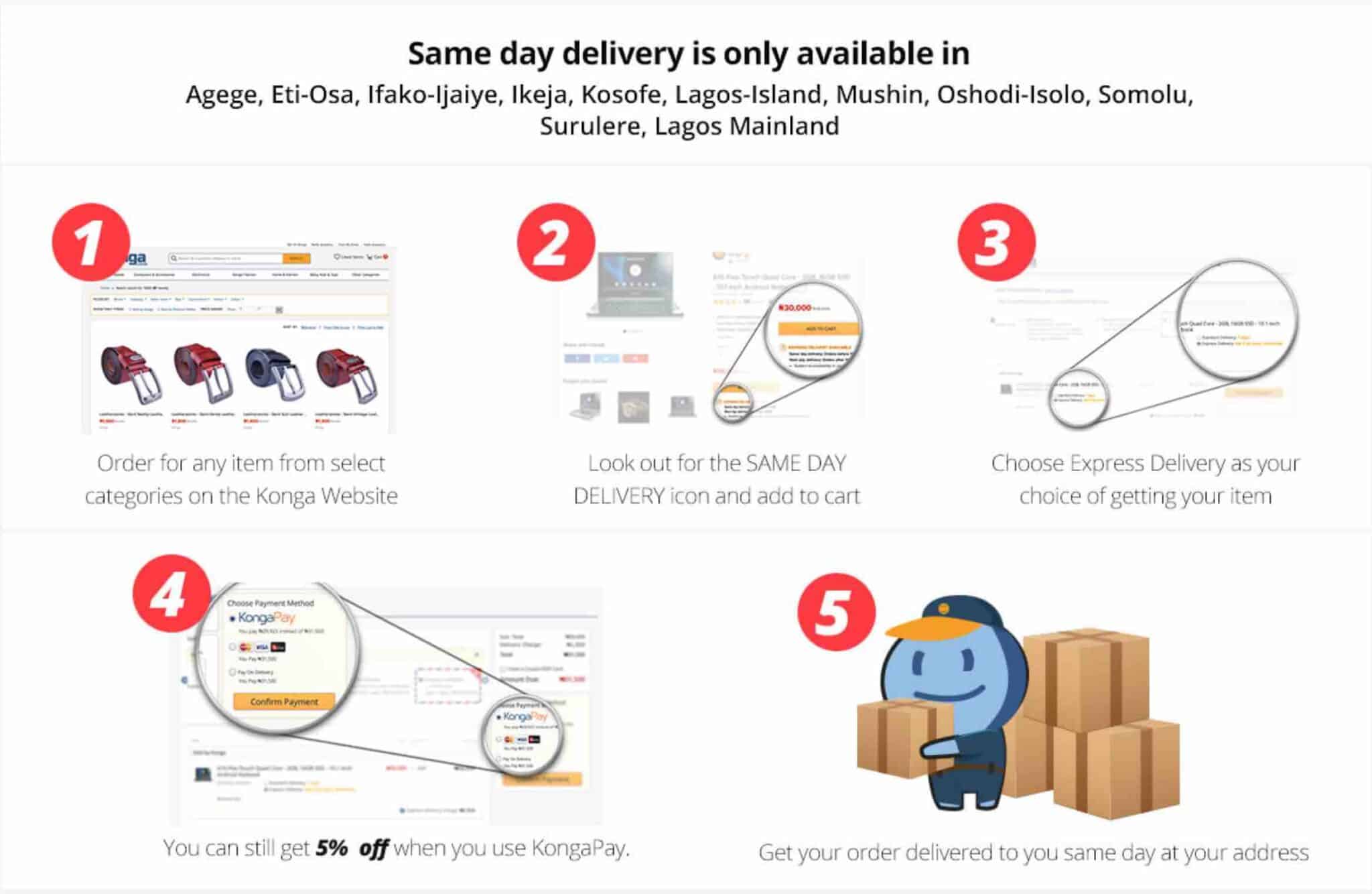 As attractive as this offer is, there is a catch. To enjoy the same day delivery service, you must place your order before 11am that day.
If you order after 11 a.m, you will receive your order the next day by 12 Noon.

— Konga Nigeria (@ShopKonga) March 22, 2016
Any order beyond that time will see your delivery arrive 12pm the next day. Not too bad as well you will say, considering that the available alternatives could see deliveries delayed as long as 5 days or more.
It would be interesting to see how Nigerians react to this development.