Today, Thursday was the South West semi-finals of the Microsoft Imagine Cup Nigeria 2016 and in our ever increasing fashion of supporting innovation in the Nigerian tech space, especially among young creators and innovators, Techpoint was live at the Microsoft Imagine Cup Nigeria 2016 at the Wennovation Hub in Ibadan.
The venue was already packed with the team leaders and their members like two hours before starting time and the teams were all raring to take the stands and make a killing with their disruptive solutions. The Microsoft Imagine Cup Nigeria 2016 was all shades of hot this year, but at the end of the day Team Humane were selected winners and would head on to the finals in Lagos.
We document the winning team, runner-ups and a few other interesting solutions from the South West semifinals of the Microsoft Imagine Cup Nigeria 2016 in Ibadan.
Team 360 Leads
This team was shepherded by team leader Adeyemi Afowowe, a student of EKSU, and it consisted of 3 young men and a brilliant lady.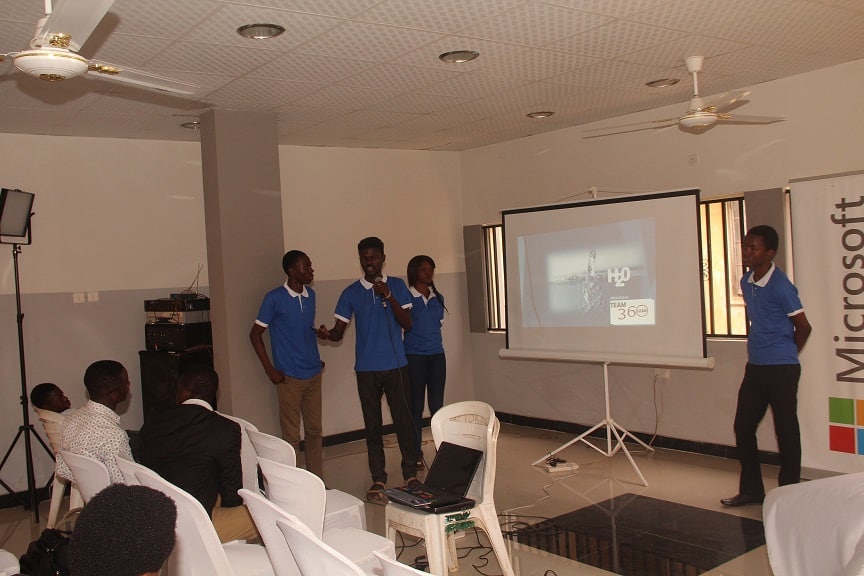 Solution; H20
This is a magnifying lens like a microscope that detects bacteria and germs in water. Its magnifying power is twenty times stronger than that of the average microscope and connection. It would be attached to Windows Mobile Devices.
The hardware version is the microscopic glass that magnifies bacteria and germs in the  water and translates it via the H20 mobile software that would be made available to Microsoft Devices.
This solution is targeted at places without access to pipe-borne water. It would be easy to detect if a body of water is safe for consumption or not. Not bad actually if you ask me.
Team Circuit
Two young men and a lady made up Team Circuit, all Computer Science and Engineering undergraduates from the Ladoke Akintola University of Technology.
Solution; Ulceress
A non-invasive  test for people with ulcer that bypasses the usual intrusive endoscopy test that is used to detect the ailment. The solution employs the bacteria helicobacter pylori that is present in the digestive system of every ulcer sufferer.
Team Circuit at the @MicrosoftNG Imagine Cup Nigeria 2016 talks ulcer solutions. #ImagineCupNG #TechpointEvents pic.twitter.com/dMWF8zzNGW

— Techpoint Africa (@Techpointdotng) March 3, 2016
Traditionally, the bacteria reacts with urea to produce Carbon-14 that is very different from the nominal  C02 that everybody breathes out after taking in oxygen.
The urea  reacts with the system of a sufferer, and a scintillator combined with a multiplier detects it and sends the report to the software which in turn creates a management plan for the sufferer. Ingenious. It was unique enough as it tied in 3rd place with the Circuit Team at an average of 20.5 over 30.
Team Elite
This team consisted of Stephen Enunwah, and two other of his male colleagues from Ajayi Crowther University in Oyo State and they are all 400 Level Computer Science undergraduates.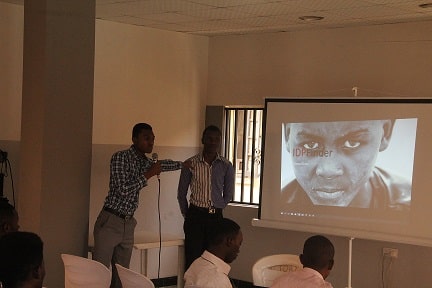 Solution; IDP Finder
Unlike refugees, Internally Displaced People have not crossed the borders of their countries or localities and Nigeria has the highest number of IDPs in Africa. And the IDP Finder is a resource that helps the internally displaced people reconnect with society.
The platform is a mobile application that would be used in IDP camps to capture data of IDPs in the camp i.e name, sex, nationality and general biodata. And collated data the would be later transferred to an Azure database. Team Elite tied in 3rd position with an average score of 20.5 over 30.
Team Tech Divas
The first all-female group stormed the house and unfortunately, Adegoke Oluwatoyin was the only representative of the team at the Microsoft Imagine Cup Nigeria 2016. It was refreshing to see a lady take the stand today and she really did have an interesting presentation.
Solution; Project GAP
Project GAP is an online resource that aims to bridge the gender gap in technology by providing an online resource for girls to have a mentor-mentee relationship on the web with experts in their chosen fields of study.
Even if the user does not wish to have a mentor on the app, there is still grounds to ask questions and seek help on an open floor without restrictions or hindrance. This is more like the Quora of the African women in Tech .
Team WiFi Hub
This team from Ekiti State University was headed by Ajibulu Olorunfemi a 400 Level undergraduate from the University and his other 3 colleagues are also from the same department as him
Solution; WiFi Hub
WiFi Hub is a solution that aims to basically render previously online study resources for students offline by caching them locally. And basically eliminating the need for internet.
Team Wi-Fi Hub is grinding stats in their presentation. Nice #ImagineCupNG #TechpointEvents pic.twitter.com/qqbpQrhwAM

— Techpoint Africa (@Techpointdotng) March 3, 2016
They basically shored up their presentation with cold hard facts. Internet is not exactly at a 100% in Nigeria and even worse on campus WiFis, so WiFi Hub aims to bring resources like Wikipedia and the rest offline to Nigerian students and make them accessible even with no or bad internet connection. They sold everybody, as they came 2nd with a cumulative point of 21 over 30.
Team AppGrade
From the look of things, this is the only team from Lagos. The members of Team AppGrade are all students of the University of Lagos
Solution; AppGrade
Last but not least is Team AppGrade with an educational solution still. #ImagineCupNG #TechpointEvents pic.twitter.com/ZrsLGfcOaM

— Techpoint Africa (@Techpointdotng) March 3, 2016
AppGrade is a cheat structured application that aims to shore up the grades of students in Universities by creating a particular system wherein students can tackles their courses and slipping grades in a systematic manner. It is simple, concise and practical. The team finished 4th, scoring 19.7 over 30 points being awarded.
Team Humane
Ayodele Obasegun is a 500 Level Electrical and Electronics Engineering undergraduate from the Obafemi Awolowo University, Ile-Ife. And he is joined by Victor Shoaga, Oyatope Blessing and Otaru Babatunde, all students of Electrical and Electronics Engineering at the Obafemi Awolowo University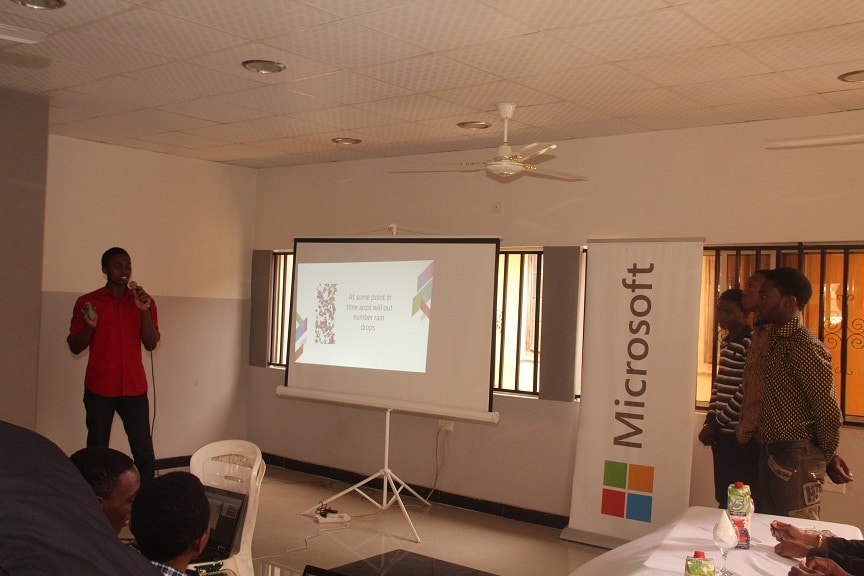 Solution; Humane
When I heard "Humane", it rang a bell, and then I remembered. They are the same Humane Team from Microsoft Imagine Cup 2014, so they came back again.
Humane is basically an application that makes smartphone operation easier for the visually impaired. It helps them select music files, play selected videos (though they can only listen), surf the web, set or check the time, the list goes on.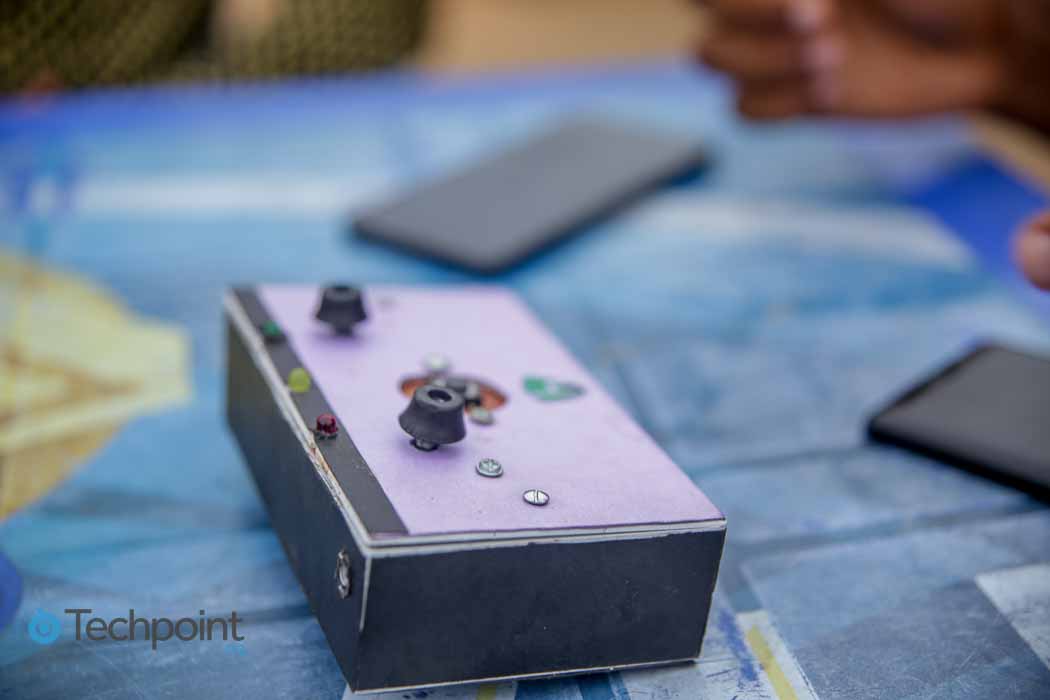 All these can be done via a dongle they call the Humane Controller. Persistence they say does pay off and after tweaking and waiting two whole years, the Humane Team won the Microsoft Imagine Cup Nigeria 2016.
Team Humane heads on to the National Finals in Lagos on the 15th of April, 2016.