Yesterday, The U.S. Department of Transportation's Federal Aviation Administration (FAA) announced plans to begin registration of Unmanned Aircraft Systems (UAS) commonly known as drones. The registration was for owners of aerial vehicles  weighing more than 0.55 pounds (250 grams) and less than 55 pounds (approx. 25 kilograms)
The FAA said that no matter how small, drone operators are also aviators and must be guided by rules and regulations that apply to crafts in the sky.
The web based registration is user free and would require the vehicle owners to provide details like name and home address, and after that a unique identification number would be generated for them to be attached to their vehicles. It even gets better that regardless of the paltry $5 registration fee, the agency made a 30 days waiver to enable people register en masse.
Last year, on the 26th day of May, popular Nollywood producer Obi Emelonye announced on Twitter that he was arrested for using a drone to take an aerial shot of the Ikeja Shopping Mall. He was taken to the police station with his crew and expressed bitterness in his tweets.
Just been arrested with my team from the UK by Lagos TV for taking aerial shots of Lagos around Shoprite Ikeja;... http://t.co/03lDHYb1vE

— Obi Emelonye (@obiemelonye) May 26, 2014
No further update was given as to the cause of the arrest, but speculations were made in some quarters that it was a problem of permits not being properly documented.
Everyday, the number of drone users are increasing in Nigeria. Ranging from the professional photographers, and filmmakers like Mr. Emelonye to the hobbyist that play with drones.
These aerial vehicles are dangerous on so many counts and need to be monitored on way or the other, registration and tracking being the easiest way. You know these PHCN wires stringing through Nigeria like electric spaghetti would make the almighty spider-man's life a living electrocuted hell, talk less of a small drone without a mind of it's own.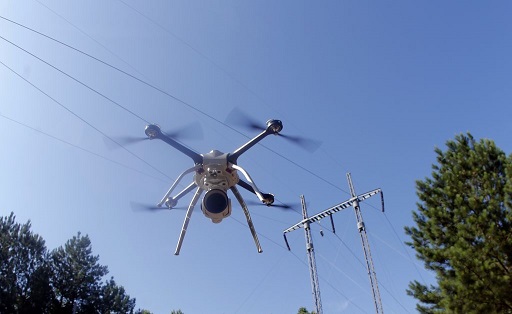 The aforementioned is just one examples of the numerous problems that unregulated drone usage can cause in Nigeria. Unless the Ministry of Transportation takes a cue from the US and starts monitoring aerial vehicles before they blow out of proportion, take that literarilly if you may.
Image Credit; Star Tribune,