Aside the demanding nature of professional married women and that of house keeping, another major concern is those of their kids in creche and pre-school.
Mytoddlr promises to bridge the gap between parents and kids, irrespective of their differences in location. As a mobile monitoring and collaborative service, parents would be able to get real time updates about their kids all day.
Our focus at Mytoddlr is childcare; and making sure parents have the right tools to connect with their children, see what they are learning on a daily basis, ensure their little ones' security and so on. The preschools and crèches are our partners in delivering the best care to the children.- Molawa Adesuyi, Mytoddlr co-founder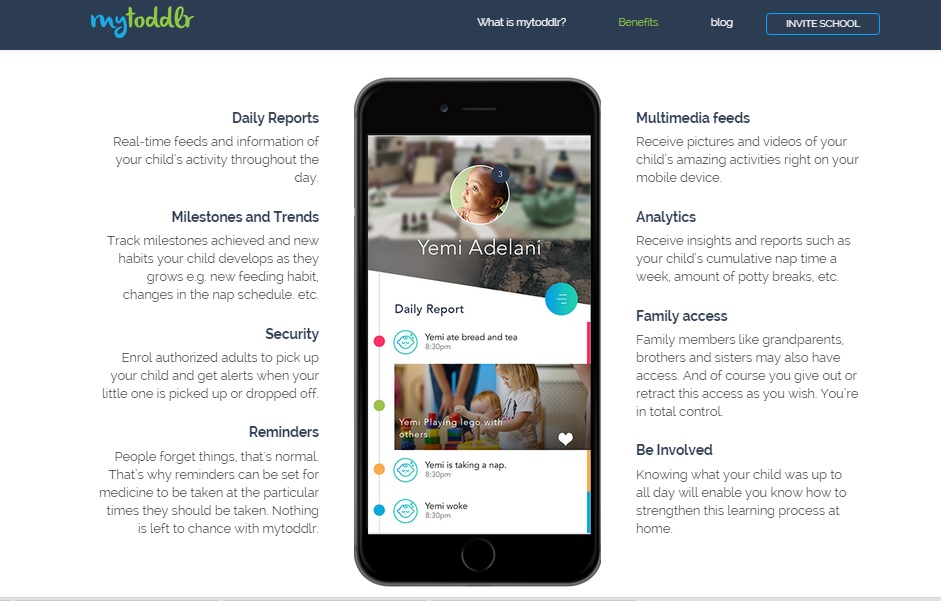 Knowing what their child is up to all day will enable them strengthen the learning process at home. Parents can enroll authorized adults to pick up their child and get alerts when their little one is picked up or dropped off.
Other reports that parents get from Mytoddlr about their kids include weekly cumulative nap time, potty breaks and even number of diapers used.
Mytoddlr would have Crèche and Pre-schools equipped with tools with which parents can track their child's development, daily activities as well as security. And the institutes on the other hand will save money through automated reporting process, activities recording and accessing.
For the childcare technology startup which has successful launched in Lagos, the vision is to deliver peace of mind while working on eliminating childcare concerns.
Over the next 6 months we plan giving parents in other cities in Africa the opportunity to be there for their children like never before.