ujuz is a 'Swahili' word for knowledge.
Joining young players in the education sector in Nigeria is uJuzi which was launched October 2014. Over the weekend,  Co-Founder and COO, Ebrahim Durosimi, shared the startup's story, challenges, and aspirations, as well as the education system in the country with special reference to the tertiary education system.
The Outset
uJuzi started out as an all-in-one project to serve every aspect of the sector. However, after a survey by the team in various higher institution of learning in Nigeria,  it was streamlined into making educational content accessible to students, especially as its business model could scale with minimal funding.
"The interpretation of some of the feedback we got from visited schools has to do with the issue of access to content."
Funding
The startup so far has gotten about N20 million, both in funding from her lead-investor, Sterling Bank and kind. With a simple revenue model, the company would start generating revenue in the next one year, looking at its model of offering a one-year free access to every users; both students and lecturers.
The Modules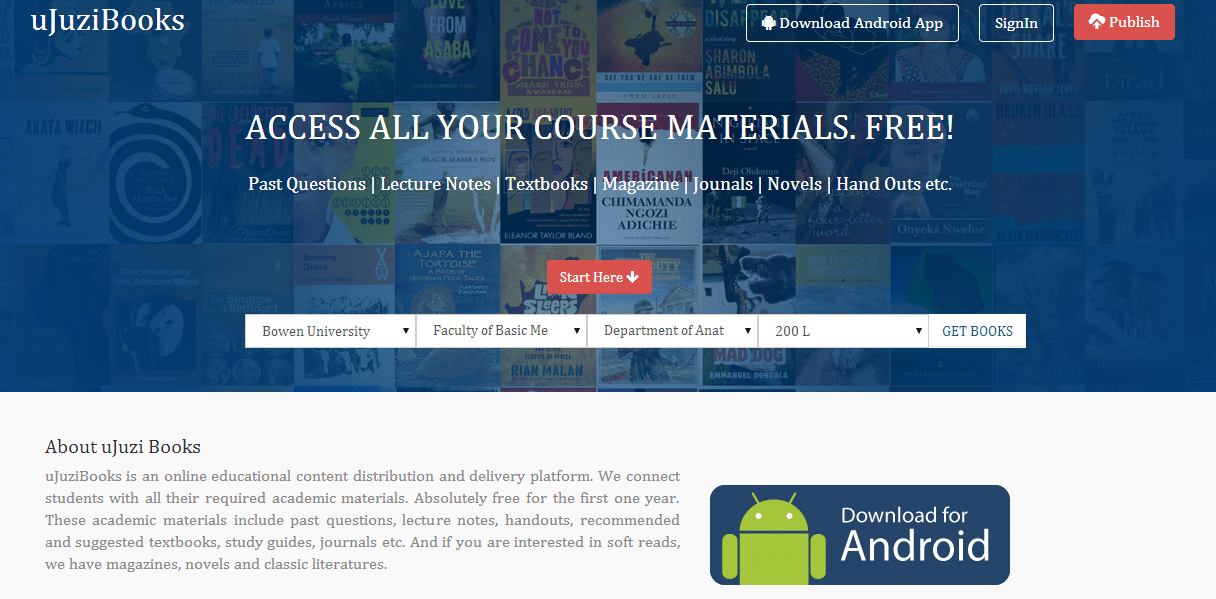 "We are creating something like Jumia, but for educational books; a Konga, but for courses or a PrepClass, but for professional examinations. We are just creating our own space to enable access to educational content, as there's no need reinventing the wheel since they already exist."
"The emphasis is on local content, there's no point trying to give what they can get themselves on Google, Amazon or other platforms."
For the company that spent about two years in the research and development phase, it's all about locking down the entire local content industry for educational resources. And in really addressing the depth in the access to educational content, uJuzi has a couple of modules catering for segments in the tertiary education system in Nigeria.
The uJuzi books is designed to serve as a digital library for tertiary institutions across the nation where students would be able to access course materials, from anywhere at any time. This is already in place at Bowen University, Osun State, where it was used in the pilot phase after launching last year.
"The pilot phase with Bowen University was a very humbling and eye-opening experience."
A lecturer creates an account on the portal, uploads his or her content and attaches a price tag, if it's not free. Lecturers get their money for content that are not free with uJuzi not getting involved.
At the moment, schools like Tai Solarin University of Education, Moshood Abiola Polytechnic and Federal College of Education, Osiele already have part of their books on the portal.
uJuzi courses started out as a portal for people with knowledge to convert same to a course and share. But the module now offers preparatory class for professional certificate examinations like ACCA, PMP among others.
Student Deals
This part of the portal aggregates cheapest prices ever on all school supplies and academic needs of students.
And in the pipeline is uJuzi TV, a platform that would give access to quality educational content in the form of lecture videos, documentaries, age-long political speeches et al. This, the young company believes would help preserve some great content.
Challenges
Like every other young and growing company, uJuzi also has its share of challenges, part of which include:
The over-protectiveness on the part of content owners - the lecturers - who are sceptical about making their content available online, especially to students. Lecturers that even accept to come on board the platform still give excuse like – "there's no PC" and "the content is in hard copy".
"Our pitch is this – we want to work with you to make your content available so that you students can access it any time and from anywhere. We are not saying give it to us."
To address these, uJuzi picks up the hard copy materials and helps with digitizing, standardizing and converting same to eBooks before uploading for the lecturers.
That schools don't see a value in the concept at the moment is also a challenge. The company spent a whole year trying to bring about 10 institutions on board, after which only one pulled through.
Competition and Approach
The portal is free for students and lecturers of partner institutions in the first year. After the first year, lecturers can offer their content for a fee, but they would have to part with a certain percentage of sales as commission. Students on their part pay a monthly access fee of N100 in order to access the free resources on the portal.
"I'm big on competition, I believe Konga won't be Konga if it wasn't for Jumia and vice versa."
The startup sees Google Books and Scholars among others as competitors. However, they believe they have an edge over these platforms, by virtue of the role they play in the local space. And for courses module, there's Tutors.ng, but uJuzi has its area of concentration to be preparatory classes for professional examinations.
Efficiency Management
Having identified in the past that it takes more time trying to signup schools, moving forward uJuzi is working directly with student union bodies and volunteers for the successful actualization of its goals.
"They would be the ones pitching to their lecturers that, this is what we want, knowing the value in the platform. "
The Big Picture
"We've failed twice before, in fact, I'd like to say we've failed over the years trying to make it work. And that has given us much experience."
Currently working on bringing every federal higher institutions of learning in Ogun State on board by the next quarter, and every other higher institutions in the state by the end of the year 2015.
For the next five years, uJuzi wants to have at least 30% market share of schools in Nigeria and also having a substantial population of students on board. And with eyes on all higher institutions in Nigeria on board by 10 years, this is in view of how reluctant some schools are feeling about the concept.
"We are looking at 100% content, and 100% students."
And uJuzi is also looking into catering for secondary school students in years to come, after which the company must have gotten an edge in the tertiary institutions category. This is based on the notion that courses and curriculum is same across all secondary schools.
Given its business model and approach, uJuzi is going to be a game-changer in Nigeria's education system.
The founder
Eb'rahim had a B. Sc., combined honors, in Mathematics & Statistic from the University of Lagos, he's also a fellow at the FATE Institute for Venture Design a technology incubator in affiliation with Center for Design Research Stanford University.
Feature Image credit: ADN Global