Say you were on a budget, how much would you be willing to pay for a (close to) premium smartphone experience? The Gionee Elife E7 does a good job of lowering the barrier to entry for premium devices, as you will soon find out.
Spec Highlights
The Gionee Elife E7 features a 5.5-inch HD display (720 X 1080 resolution) with Corning Gorilla Glass 3 protection. Powered by a 2.2GHz Quad-core Snapdragon processor and a reasonably-sized 2500 mAh battery, the Gionee Elife E7 comes in 2 variants:
16 GB internal memory and 2GB RAM
32 GB internal memory and 3 GB RAM
Our review unit happens to be the 32GB/3GB RAM variant. The device also packs a couple of other (relatively) high end specs including a 16MP primary camera (with autofocus and LED flash), 8MP "selfie" camera, Near Field Communication and USB On-The-Go support.
Let's get to the awesome stuff
The Awesome Stuff
Performance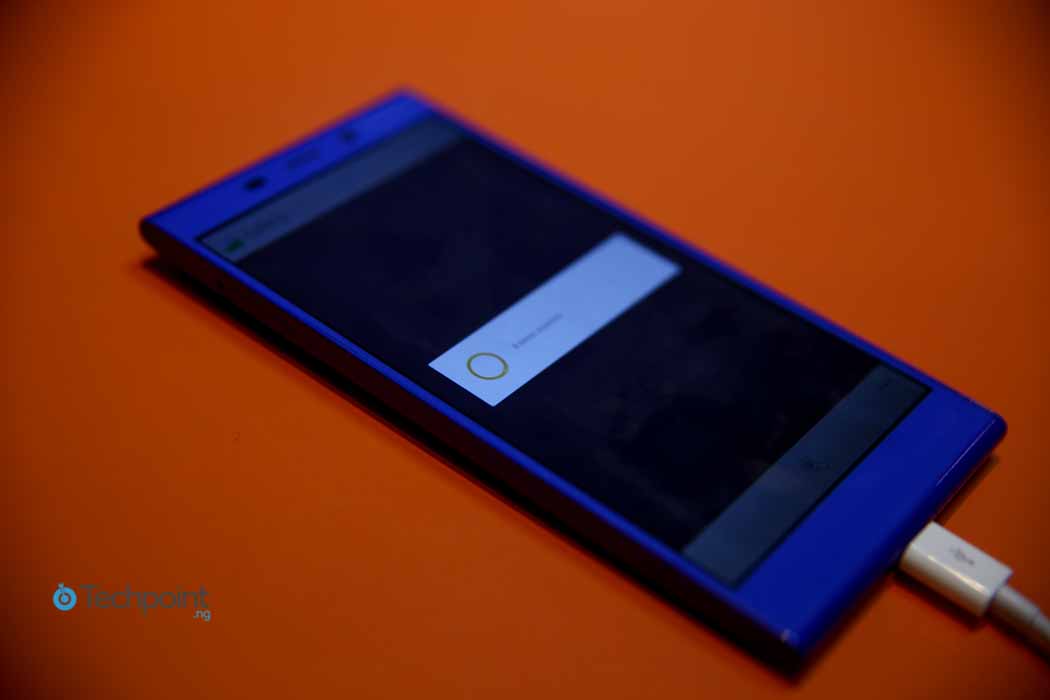 Judging by specs alone, the Gionee Elife E7 should breeze through anything you throw at it. In real life usage, it's just as impressive. There is no noticeable lag whatsoever and multitasking is a breeze (not a surprise, it's 3GB of RAM!) and gaming and video experience is fluid. Apps never close in the background and I am yet to experience it getting excessively hot.
The Gionee Elife E7 gets an A on performance.
Amigo UI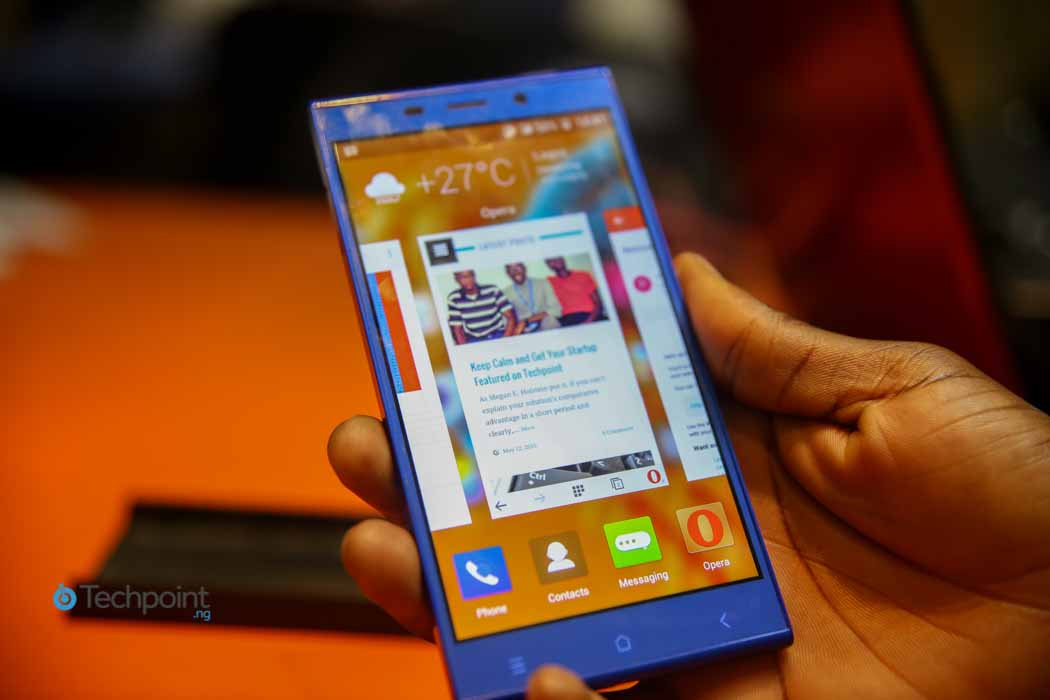 The Gionee Elife E7 ships with Gionee's custom Android interface - Amigo UI 2.0. I fell in love with it almost instantly, never mind that I have my reservations about the absence of the almighty app drawer. Aside the aesthetically pleasing icons and overall interface, Amigo UI has got a couple of nifty customizations. Allow me to highlight 2 of them.
Lockscreen interactions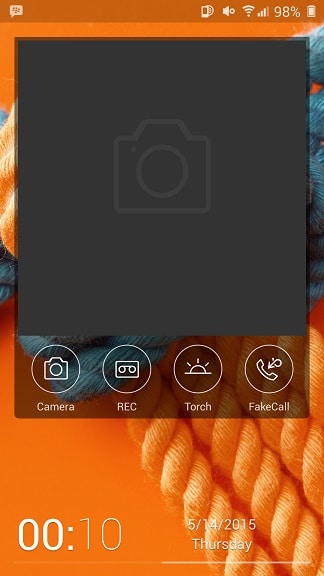 If you swipe from the right on the lockscreen, you get to utilize a couple of pretty useful shortcuts for the camera, sound recorder, torch and (very interesting) fake call functionality. The camera, being the first option, is activated by default. This provides a quick way to access your camera without even unlocking your screen. The fake call functionality is sure to have near-limitless number of use cases, most prominently getting out of inconvenient situations.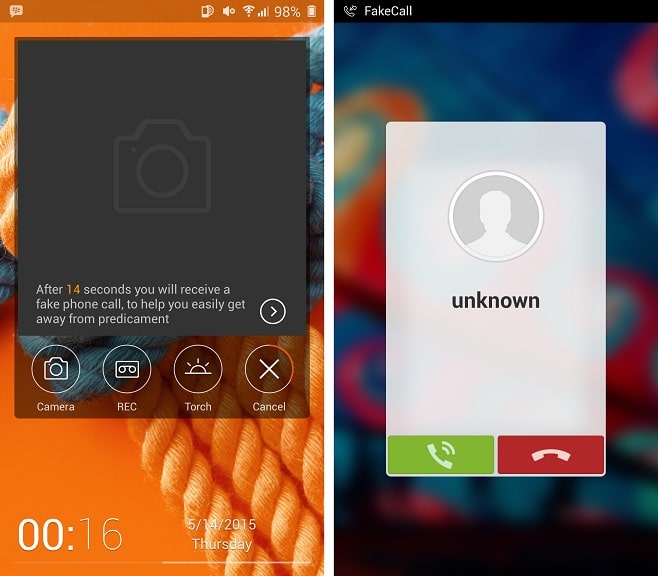 I think it's also pretty nifty how you transition from lockscreen to most recently used app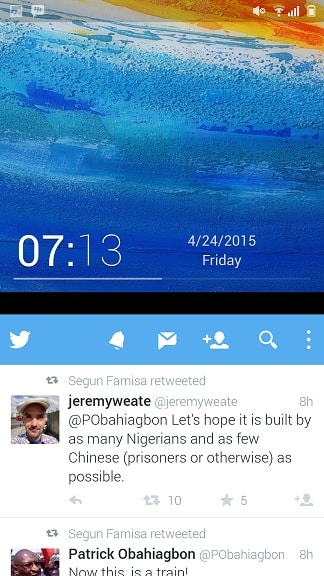 Multitasking screen
Is reminiscent of iOS 7 and 8, which is equally reminiscent of Windows Phone 8. I don't mind though; it's pretty cool.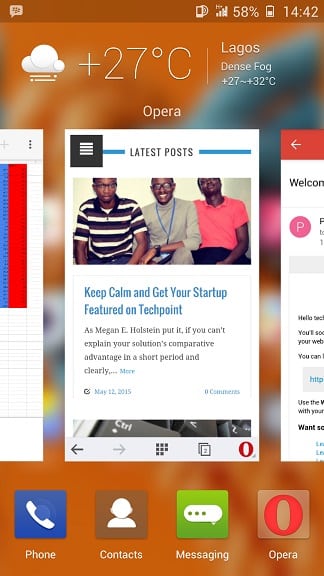 Asides the fact that sometimes, when you are within an app, you have to double-tap (home button) the first time to get it to work perfectly, I think it's best way for switching between apps I have experienced on Android.
The clip-on stand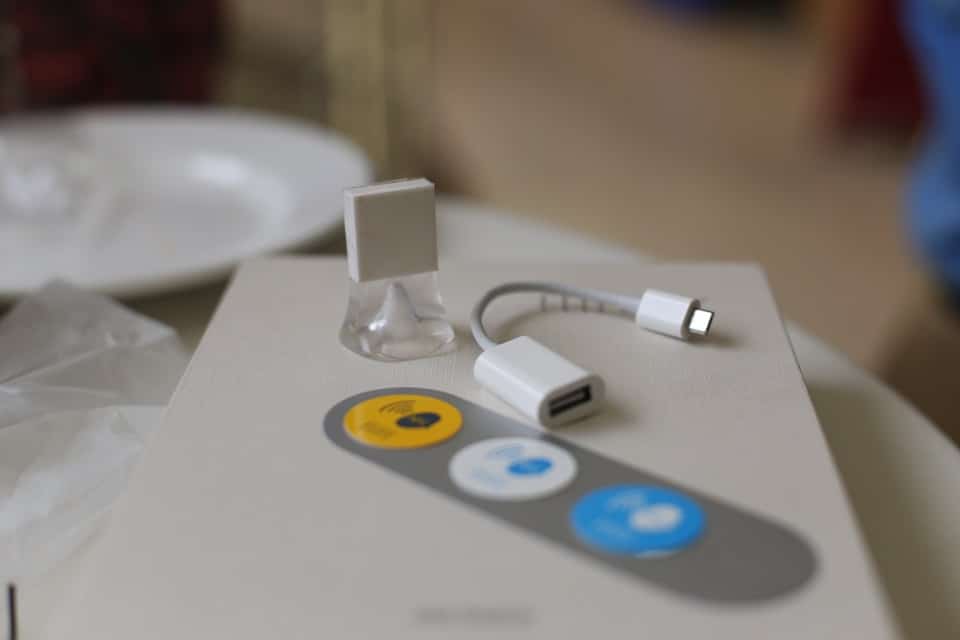 Asides the customary earphones, the Gionee Elife E7 comes with other accessories including a clip-on stand, an OTG cable and NFC tags. We will get to the last two in a bit but, the clip-on stand is probably the most interesting of the lot. It appears it was primarily intended to be used for watching videos like this:
But we found out we can use it in many other situations including this:
The possible use cases are limited only by your imagination.
NFC and USB OTG
Probably sound like the most useless acronyms to the non-techie. NFC means 'Near Field Communication' and USB OTG stands for USB On-The-Go. Depending on your needs and the limits to your imagination, they are probably the most useful connectivity tools you can have on any smartphone.
USB OTG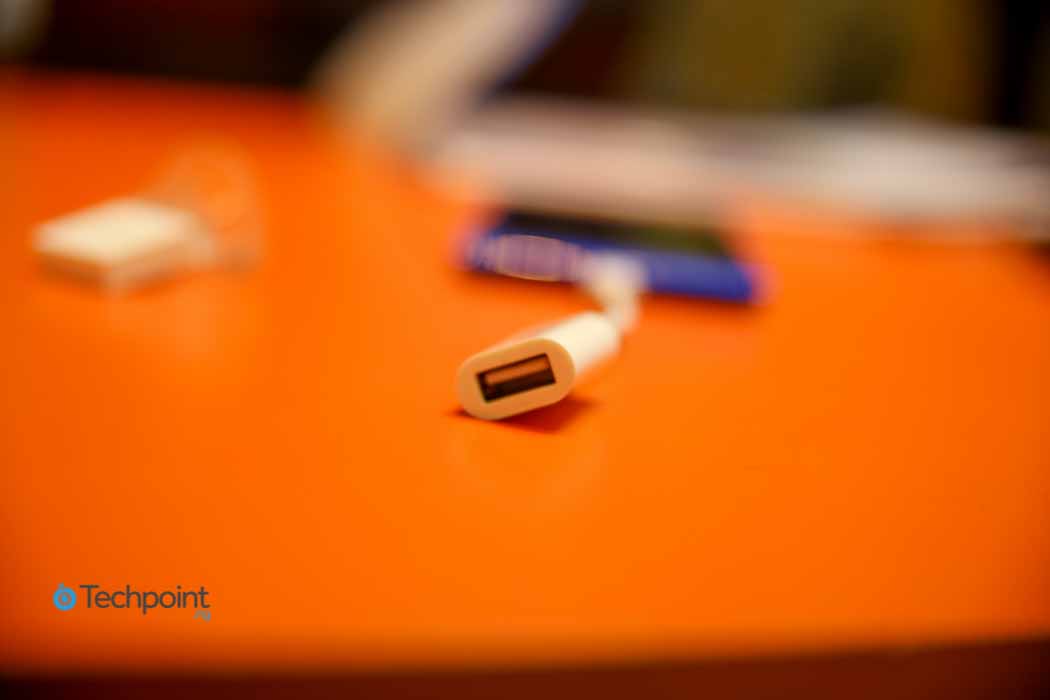 Using the bundled OTG cable, you can do a lot wonderful things like:
directly plugin a flash drive to copy and even play files (including movies) from it.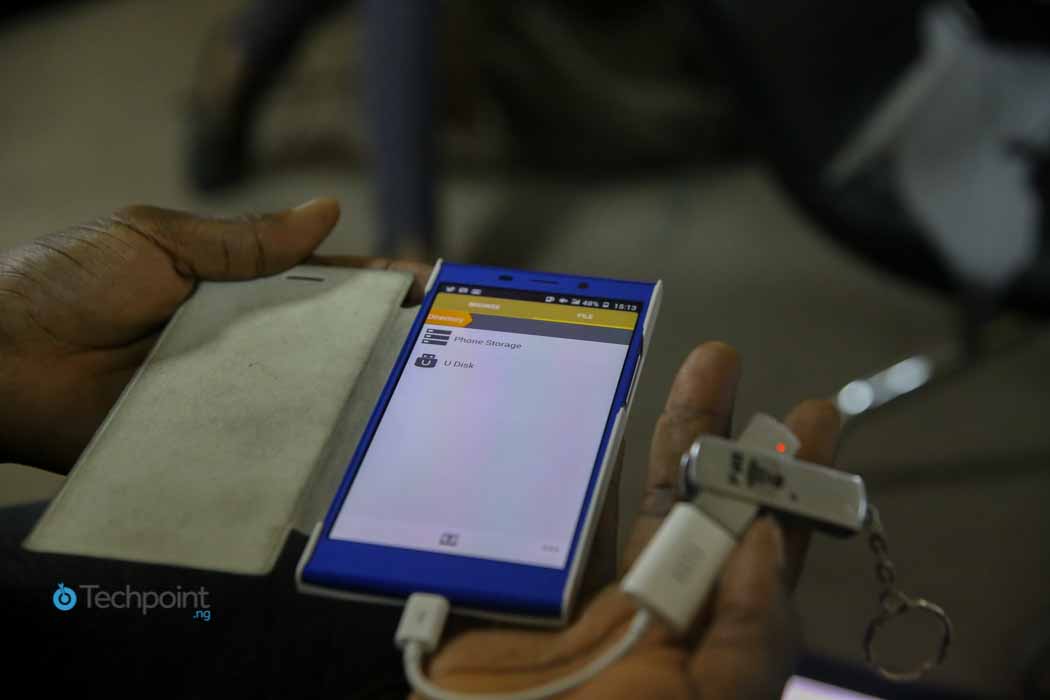 plugin your printer to print files from your smartphone
plugin and use a mouse with your smartphone
charge another phone or USB-powered device (it will run down the Gionee Elife E7's relatively small battery quickly though);
and even plugin gamepads for gaming.
NFC
NFC's primary use is for transferring files between 2 NFC enabled devices by bringing them close together. You don't have to scan for visible devices or endure slow transfer speeds liek you would with bluetooth. Just touch the devices transfer away
But NFC is a whole lot more than that. Using NFC tags (3 come bundled with the device) you can program your smartphone to do things automatically, just by touching the back of the phone on the NFC tag.

You can stick the NFC tags anywhere for use with your smartphone. So for example I have one tag by my bedside programmed to tell my phone to go on silent, turn off connectivity and set an alarm, anytime I touch it. I have another one in my car that's programmed to turn off Wi-Fi and open Google Maps and lastly, one by my laptop for when I'm in "work mode".
I will expound on the joys of NFC in another post.
That's about it for the awesome stuff. Let's move on to what's "okay" about the Gionee Elife E7.
The "Okay" Stuff
Lots of space but ....
Our review unit ships with 32GB RAM, 22GB of which is accessible to the user. If you're someone like me who hardly stores stuff I don't use, this is more than enough. App junkies will be glad to know that Gionee has partitioned 4 out of those 22 GB solely for apps. So you can install away.
The only bummer is that there's no expandable memory card slot, which again, if you're like me, is not much of an issue. But I can image it might be an issue for a lot of people.
The display
Is okay. I'd give it a B+. It's not necessarily terrible under direct sunlight, neither is it mind blowing at full notch. Let's just say I've seen better many times over
The battery life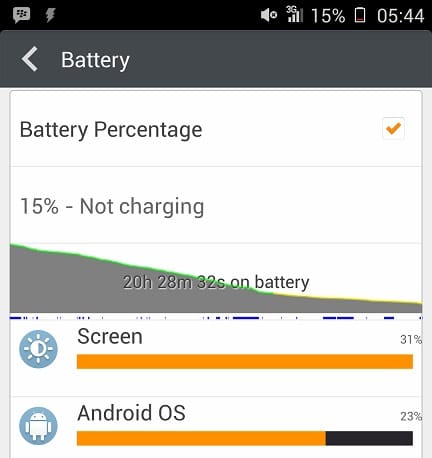 Standby time is great. I can't say the same about regular use. Not that it's horrible anyway; I manage to consistently get about 9 to 10  hours of fairly normal usage before the battery runs down to below 20%. Which means when I unplug fully charged at say 8am in the morning, I don't have to start worrying about recharging until about 6pm.
"Normal" usage for me is lots of emailing, a healthy dosage social media activity, some calls, on the few occasions I'm lost, some Google Mapping and, once in a while, hotspot tethering. So you're bound to get even more out of the battery if you're not a heavy user like myself.
It is of worthy mention that the Gionee Elife E7 battery is non-removeable.
The camera
For me is just okay. Don't get me wrong; if you don't plan to use if for anything more than sharing your culinary exploits to all those who don't care on Instagram, Twitter and Facebook, you'll find the camera more than suits your needs. But I was expecting a little more out of it, seeing as it's 16MP. However if you are patient and enthusiastic enough, the Gionee Elife E7 camera comes with a ton of cool features that can help you get the best out of it.
A couple of samples:
The not-so-good stuff
There's almost nothing I dislike about the Gionee Elife E7. It really is an awesome device. I have mentioned my reservations about the absence of an app drawer, which can be easily remedied by installing a custom launcher. There are tons of those ones on the Play Store.
Single SIM
But if there's anything I wish the Gionee Elife E7 had, but I can't have, it's dual SIM functionality. The Gionee Elife E7 is regrettably only single SIM capable. That's bound to be a deal breaker for a lot of folks, I imagine.
Should you buy the Gionee Elife E7?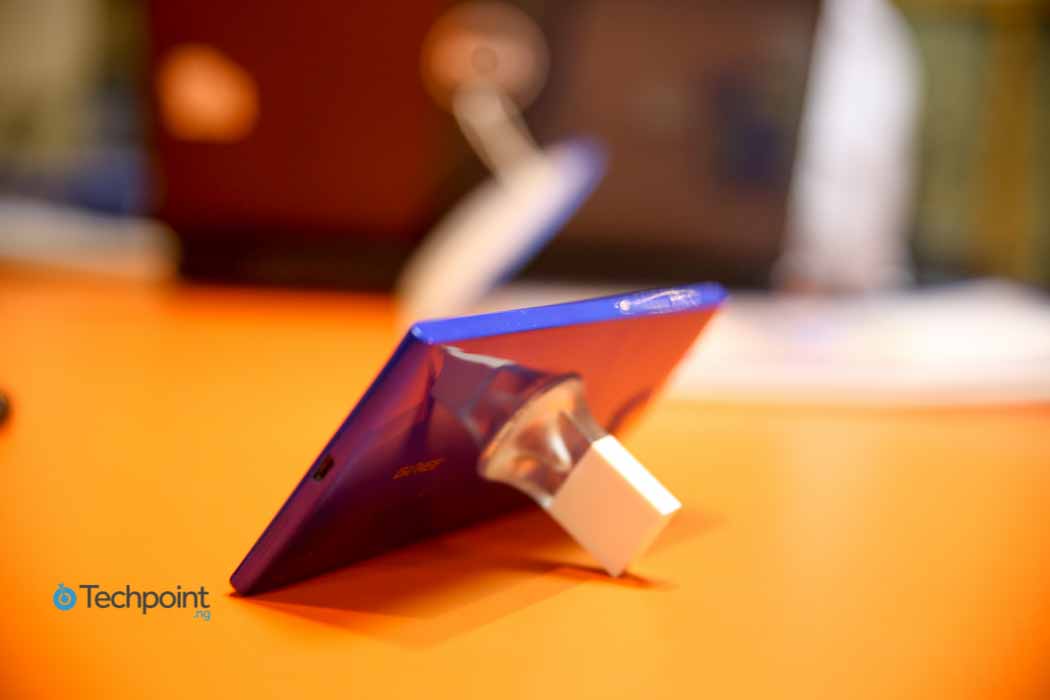 So the real question now remains, "should you buy the Gionee Elife E7"? Definitely, if it's within your budget. It's fast, it's beautiful and does pretty much everything you'd expect from a premium device. Even as a 2 year-old device (only just coming to Nigeria officially), its manages to still pack very relevant in 2015. Well, save for the fact that it runs on Android JellyBean. That for me is a non-issue, as long as the UI runs smoothly, as it does, and I can install all my essential apps without hassles.
[affiliatemonkey_product_box title="gionee e7" /]
Finally, the Gionee Elife E7 retails for 53k exclusively on Konga, thanks to a special partnership between the online store and Gionee. That's a serious bargain; considering all the premium features it packs, it should normally retail for about 70 to 80k.