I'm seriously tired of how easily Nigerians seem to disregard property rights laws (I feel like Linda Ikeji is to blame, but that's another story). Today we got to witness another evidence of how bad it has gotten with popular food blog, 9jaFoodie calling out food delivery service, Hellofood for the same crime (yes, it's a crime) on Twitter.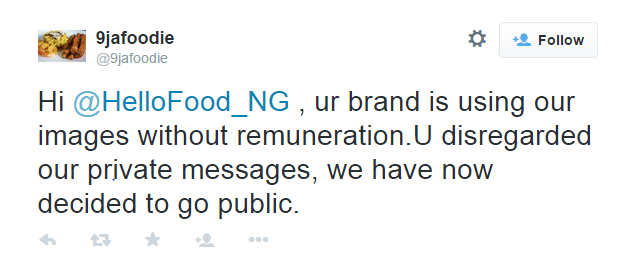 Hi @HelloFood_NG extremely disappointed with your lack of action on this matter. You obviously have no regard for the hard work we do.

— 9jafoodie (@9jafoodie) May 12, 2015
They promised to rectify the issue, but they haven't done anything @TheYomiKazeem @HelloFood_NG

— 9jafoodie (@9jafoodie) May 12, 2015
The tweet indicates that 9jaFoodie actually tried to settle the issue privately, but were ignored. That's even extra annoying, as the HelloFood twitter account hasn't responded either.
PhotoCredit: 9jaFoodie