The addiction usually starts slowly: a little free Uber code from a friend and then you are watching those mini cars drive around the mini map like nobody's business. See that's not a problem in itself, you know, sometimes, a little slide up to Uber Black just feels right [everyone loves luxury] and when you're on a budget, you choose UberX and a sweet, off-duty hire car greets you.
But then sometimes, things go wrong. The Uber you order is not the Uber you expect.You sometimes get a very chatty driver who doesn't know how to follow the map and triples your fare somewhere along the journey. Or you get a belligerent one who wants you to come meet him at the junction where he's parked because he doesn't want to have to reverse out of your estate. He forgets that you hold his stars in your hands.
I love Uber, so much, but with a new innovation, challenges will arise.
Who Has The Lowest Time?
All the tiny cars on that Uber map. You order for one, and 10 minutes pops up, No one has time for that. You order again. "No cars currently available." Refresh. Surely another one is nearer. Four minutes. One more refresh. Ten minutes.
You're late for that meeting but, one more refresh...
When The Price Surges...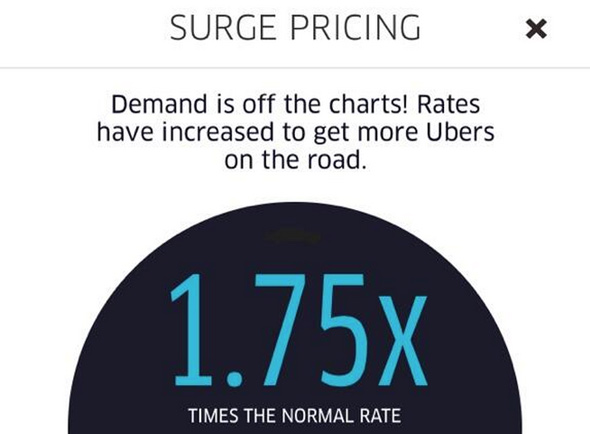 Surge pricing was like a sucker punch for me. I didn't get the warning memo. So I start trying to understand if  2.6X the fare is higher than an average yellow taxi (by the way, it is).
Uber claims surge pricing is to bring more drivers on the road when riders need them most. I don't know if I would rather have more expensive rides, than no rides at all.
And of course it is times like these it is no doubt cheaper, and faster, to order a regular cab.
All those yellow cabs drive past while you wait for your Uber
Ever ordered an Uber when you're in a hurry to attend a meeting? You don't want to sweat when you arrive at that meeting and the Uber ETA said "10 minutes away", but now you're outside panicking and waiting for the Uber you ordered 25 minutes ago while inside your house.
And outside, in the hot, hot sun, those yellow cabs are zooming right past you but you've already committed to five-star Emeka. You watch that little car icon take a incorrect turn after incorrect turn. More yellow cabs pass. You get hyperthermia. But Uber.
Emeka arrives and you get in and say to yourself "I may be 20 minutes late, but at least I arrived in a cool car".
Jumping out of A Yellow Cab Without Paying
Remember yellow taxis? The ones you have to agree on a price with and then have them drive you past an ATM?
Uber allows you to spend money without realizing it — no card, no cash. It is the perfect app for people who never want to come to terms with their poor spending habits.
So on the rare occasions when you have absolutely have to use a regular cab, you face the annoying task of finding your wallet - or money. Or forgetting you are in a regular cab and not paying at all. Wave to the driver, say thank  you and you are off.  But, of course, you are chased down the road by a crazy driver who is screaming for his cab fare.
This is not an Uber.